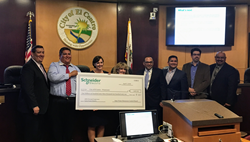 Schneider Electric is a trusted partner that demonstrated they knew our city's unique needs and the best approach to meet our efficiency and infrastructure goals.
EL CENTRO, Calif. (PRWEB) April 05, 2018
Energy and sustainability expert Schneider Electric today announced it has secured a $1.6 million grant to help fund a facility improvement project at the El Centro Wastewater Treatment Plant in Imperial County, California. Representatives from Schneider Electric presented a check to El Centro city officials during a recent City Council meeting to mark this important occasion.
The grant from the California State Water Resources Control Board will be used to install operational and energy efficiency improvements at the city's wastewater plant, specifically in the aeration process. The project will reduce energy consumption in the plant's aeration process by 29 percent by installing high efficiency turbo blowers and implementing dissolved oxygen control. Additional equipment and measures will be implemented to improve plant performance and reduce energy and operational costs, including:

Installing a new bar screen to collect debris and improve downstream plant processes
Replacing emergency generators and converting from diesel to natural gas, which will have an environmental impact equivalent to removing 5.8 tons of carbon dioxide from the atmosphere or planting 232 trees
Installing a supervisory control and data acquisition (SCADA) system at all lift stations to provide monitoring from a central location
Rehabilitating aging sewer lines
"The aeration process is the most energy intensive step in the overall wastewater treatment process, and we knew we had work to do to turn our plant into a leader in efficiency," said Marcela Piedra, El Centro City Manager. "Schneider Electric is a trusted partner that demonstrated they knew our city's unique needs and the best approach to meet our efficiency and infrastructure goals. We are incredibly grateful for this grant that will enable us to reach new levels of wastewater innovation without burdening our local taxpayers."
Construction is currently underway and is scheduled to be complete by summer 2019.
"We are proud to help the City of El Centro identify unique funding opportunities and be the city's design-build partner to manage critical infrastructure projects that will dramatically improve wastewater operations," said Tammy Fulop, Vice President, Schneider Electric. "At Schneider Electric, we are committed to helping municipalities and special districts in California and beyond achieve their wish lists for infrastructure improvements while driving sustainability initiatives forward, all at no cost to taxpayers."
"Schneider Electric has been an exceptional partner and resource for El Centro. Their expertise has proven to be invaluable as El Centro looks for every opportunity to become more efficient and environmentally aware," said Cheryl Viegas Walker, Mayor, City of El Centro.
Over the past 25 years, Schneider Electric has successfully implemented more than 675 energy savings performance contract (ESPC) projects across the nation, saving its clients nearly $2 billion. This project delivery method helps publicly funded entities make capital improvements through a design-build delivery and offers many long-term benefits such as improved efficiency, operational performance, financial management and environmental protection.
For more information on how Schneider Electric helps municipalities tackle their top priorities with energy and wastewater efficiency, please visit http://www.schneider-electric.us/enable.
Photo Caption
From left to right: Jason Jackson, Council Member; Edgard Garcia, Mayor Pro-tem; Valerie Houchin, Schneider Electric; Cheryl Viegas-Walker, Mayor; Efrain Silva, Council Member; Tomas Oliva, Representative for Congressman Juan Vargas; Abraham Campos, P.E., Deputy City Engineer; Alex Cardenas, Council Member.
About Schneider Electric
Schneider Electric is leading the Digital Transformation of Energy Management and Automation in Homes, Buildings, Data Centers, Infrastructure and Industries. With global presence in over 100 countries, Schneider is the undisputable leader in Power Management – Medium Voltage, Low Voltage and Secure Power, and in Automation Systems. We provide integrated efficiency solutions, combining energy, automation and software. In our global Ecosystem, we collaborate with the largest Partner, Integrator and Developer Community on our Open Platform to deliver real-time control and operational efficiency. We believe that great people and partners make Schneider a great company and that our commitment to Innovation, Diversity and Sustainability ensures that Life Is On everywhere, for everyone and at every moment.
http://www.schneider-electric.us
Hashtags: #SchneiderElectric #ElCentro #wastewater #efficiency #LifeIsOn #DigitalEconomy