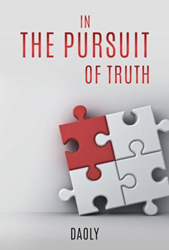 The book touches upon a variety of intellectual, philosophical, political aspects of everyday life that are facing Americans at present and in the near future
READING, Mass. (PRWEB) April 06, 2018
Within the pages of In the Pursuit of Truth ($16.99, paperback, 9781545622889; $8.99, e-book, 9781545627495), readers will get a glimpse of the Chinese culture from someone who grew up in the upheaval of the communist country during the 1960s and 1970s. The protagonist DR has an intellectually inquisitive mind that is in discordance with the social system in China at that time.
Readers will also learn about DR's favorable view of American Culture, along with his certain critique, as an immigrant who spends decades of his adult life in the US.
The author states, "People have some understanding and misunderstanding of the Chinese culture, so I hope this book would certainly pique the interest of readers at large."
"The book touches upon a variety of intellectual, philosophical, political aspects of everyday life that are facing Americans at present and in the near future," author says. "The perennial topics are from national interest to globalism, from middle class to capitalism, from immigrants' impact on American society and the importance of assimilation, from liberalism to conservatism, and the survival of democracy and human civilization."
Daoly spent more than three decades in China and then emigrated to the United States. He is a U.S. citizen through naturalization with an advanced degree in science. For 30-plus years, he served as senior manager for biotech companies as well as a consultant for the industry. He is devoting his retirement time to the study of political, cultural and philosophical issues that have significant and immediate impact on society.