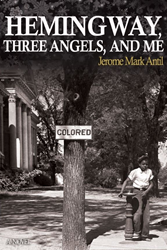 It's may be as simple as 'breaking bread' with others - at their table.
NEW YORK (PRWEB) April 09, 2018
Written in his own voice, 77 year old Antil wanted to paint a historical picture of the nation's racial temperament during his coming of age in the 1950s. Inspired by a summer trip to Little Rock, Arkansas in 1953 when he was twelve - and his favorite book The Old Man and the Sea he arranges to meet Ernest Hemingway in his adventure. He weaves his home life in upstate New York into that of the Jim Crow culture of Little Rock in the day. Antil wanted to express why, as a result of many people just like his father, there was no racism in the dozen or so group of small country towns, villages or schools in upstate New York where he and his friends of every color grew up.
"I wrote the book - the fourth in my Pompey Hollow Book Club series - for President Obama," says Antil. "I wanted to share how life could be - how it was in our communities in the 40s and 50s with no hint of racism. It takes place at the same time football legend Jim Brown - all star college football player - wouldn't be given a scholarship because of his color - just 18 miles away at Syracuse University."
Antil donated 2,700 books to Central High School in Little Rock - the school where Eisenhower sent troops to walk kids into the newly integrated high school. Hundreds of books to others and VA hospitals in every state. He hopes there is 'bigger picture' answer his father, Big Mike, gives in the book - one that sets an example on how we can all better understand other cultures and assimilate - as done so gracefully for a century or more in New Orleans - we all can blend beautifully.