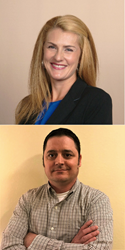 Both of our winners are very deserving, and exemplify true excellence in everything they do.
NASHVILLE, Tenn. (PRWEB) April 05, 2018
Pivot Point Consulting, a Vaco Company is proud to announce the two recipients of its quarterly Excellence Award: Sr. Epic Consultant Trampus Dobson and Operations Manager Kelly Ostertag.
The Pivot Point Consulting Excellence Awards recognize employees who have served Pivot Point and its clients in an exceptional manner through outstanding service in their work and exhibiting a positive and supportive attitude. Recipients are chosen based on nominations and feedback from supervisors.
"Qualifying for this award requires holding oneself to the highest standard," Pivot Point Consulting Managing Partner Rachel Marano said. "Both of our winners are very deserving, and exemplify true excellence in everything they do."
Darin Ryder, Pivot Point's Director of Consulting Services, agreed. "Trampus always has a positive attitude and lifts up those around him," he said. "And Kelly is the first to ask, 'how can I help?' Both Trampus and Kelly embody the best of Pivot Point Consulting."
The Excellence Award is presented to one consultant and one internal staff member at the end of each quarter. To view more of Pivot Point Consulting's award winners, click here.
About Pivot Point Consulting, a Vaco Company
Pivot Point Consulting is a healthcare IT consulting leader specializing in technology and strategic advisory services, EHR implementation, training, optimization, legacy support and project management. The firm has 250 consultants, 50 internal employees and serves over 50 clients across the nation. Clients range from large multi-hospital networks to academic institutions, pediatric hospitals, and local community clinics. The company has earned many industry and workplace quality awards including: highest rated vendor in KLAS Implementation Services Select Category (July 2017 report), #1 in KLAS for Epic Consulting in the Select Category in 2016, and #9 in Modern Healthcare's Best Places to Work in 2016. For more information about Pivot Point Consulting, visit http://www.pivotpointconsulting.com. Follow us on Twitter @pivotpc.
# # #