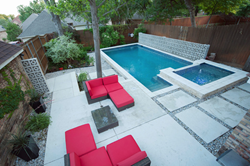 We were overwhelmed by the judges' recognition of the quality of the work that we do at Gohlke Pools. - Matt Gohlke
DENTON, Texas (PRWEB) April 12, 2018
Gohlke Pools in Denton, TX was honored recently at the United Aqua Group's annual awards ceremony in San Diego, California. Gohlke Pools is celebrating its 60th of business in Denton in 2018 and received twenty-two different awards during the ceremony. Gohlke Pools received 18 Awards of Distinction for design and 4 Best of the Best Awards.
"We were overwhelmed by the judges' recognition of the quality of the work that we do at Gohlke Pools," said Matt Gohlke, president of Gohlke Pools, "We have a great team here at Gohlke Pools and they are the folks that earned these awards."
Gohlke Pools designs received awards in the following categories:
Residential Concrete Freeform Pools – 5 Awards

Lakeview Project
Merrill Project
Winthrop Project
Buffalo Project
Harvest Project
Chisum Project
Residential Concrete Geometric Pools – 4 Awards

Falcon Project
Valera Project
Chapel Project
Wildgrove Project
Flower Mound Project
Residential Concrete Spa – 1 Award

Residential Concrete Water Features – 6 Awards

Argyle Project Waterfall
Lantana Project Water Feature
Chisum Project Water Feature
Gainesville Project Waterfall
Falcon Project Water Feature
Valera Project Water Feature
In the Best of the Best Categories, Gohlke Pools was named the Retailer of the Year for the Gohlke Pools Retail Store at 909 Dallas Drive in Denton. Other Best of the Best Awards included:

Retail & Service Best Ad Campaign
Retail & Service Best Promotion for participation in the Yankee Doodle July 4th Parade\
Best of Customer Satisfaction
To see photos of the award winning pools, go to https://gohlkepools.com/gohlke-pools-captures-22-national-awards-in-pool-design-competition-2/
For 60 years, Gohlke Pools has been building and servicing pools in Denton County. The Awards of Distinction is a time-honored competition that recognizes the hard work, dedication and many achievements of members of the United Aqua Group.