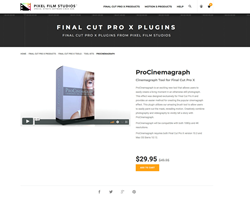 "ProCinemagraph incorporates an innovative concept of merging still images with fluid motion to create a spectacular effect in Final Cut Pro X."
ALISO VIEJO, Calif. (PRWEB) April 09, 2018
ProCinemagraph is an exciting new tool that allows users to easily create a living moment in an otherwise still photograph. This effect was designed exclusively for Final Cut Pro X and provides an easier method for creating the popular cinemagraph effect. This plugin utilizes our amazing brush tool to allow users to easily paint out the mask, revealing motion. Creatively combine photography and videography to vividly tell a story with ProCinemagraph.
ProCinemagraph was designed exclusively for Final Cut Pro X. Capture the attention of any audience by uniquely blending photos and video together in creative new ways. Cinemagraphs work well for product shots, portraits, landscape, sports and more. Quickly create endless possibilities using ProCinemagraph.
This effect uses familiar brush controls as well as hot keys to quickly and effortlessly edit the mask. Brush style controls consist of sliders and drop downs which are located directly inside of Final Cut. Hold down the command key to erase brush strokes from the canvas, while the plus and minus keys are used to adjust the brush size.
Use this effect to create seamless repeat loops. Start by makeing sure that the footage was taken using a tripod. This ensures that the footage is perfectly still, otherwise a clear separation between the still frame and the video footage will be visible. Select a still frame from the footage, using the brush tool to reveal areas of motion, and end by seamlessly blending a repeat loop.
This effect is perfect for creating eye catching content for social media, marketing, advertising, and more. Bring any Final Cut Pro X production to a new level with ProCinemagraph from Pixel Film Studios.
Established in 2006, Aliso Viejo, California-based Pixel Film Studios is an innovative developer of visual effects tools for the post-production and broadcast community. Their products are integrated with popular non-linear editing and compositing products from Apple FCPX. Apple, the Apple logo, Mac OS X, and Macintosh are registered trademarks of Apple Inc. in the U.S. and/or other countries. All other trademarks and trade names are the property of their respective owners.