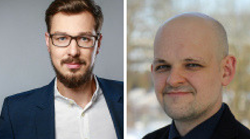 YORBA LINDA, Calif. (PRWEB) April 05, 2018
The NGS library preparation process is labor-intensive, requiring experience and attention to detail over hours. Eppendorf consumables and thermocyclers have aided many laboratories to achieve great results. To further streamline workflow, Eppendorf's automation solution, the epMotion® 5075 NGS provides a perfect addition to other Eppendorf solutions. This easy-to-use liquid handler comes with a special software, accessory and consumable package for ease of use in your lab.
Through this webinar, which is sponsored by Eppendorf, attendees will learn of the common considerations when planning an NGS experiment. Speakers will learn of the arsenal of tools and products from Eppendorf to help you in your NGS workflow and what automation on the epMotion® 5075 NGS means for experiments.
Dr. Tim Schommartz and Dr. Marc-Manuel Hahn, both application specialists of liquid handling for Eppendorf, will be the speakers for this event.
Schommartz works as Application Specialist for automated Liquid Handling at the Eppendorf Headquarter in Hamburg, Germany. He studied molecular life science in Germany and Singapore, focusing on the influence of anti-inflammatory antibodies on allergies and autoimmune diseases during his master thesis. Tim Schommartz holds a doctorate in chemistry working in the field of virology.
Hahn works as Application Specialist for automated Liquid Handling at the Eppendorf Headquarter in Hamburg, Germany. Marc-Manuel Hahn holds a doctorate degree in medical sciences. Before joining Eppendorf, he worked as a sequencing applications specialist at Macrogen Inc. in Amsterdam.
LabRoots will host the webinar April 26, beginning at 7:30 a.m. PDT, 4:30 p.m. CEST. To learn more about this event, discover the continuing education credits offered, or to register for free, click here.
About Eppendorf AG
Eppendorf is a leading life science company that develops and sells instruments, consumables, and services for liquid handling, sample handling, and cell handling in laboratories worldwide. Its product range includes pipettes and automated pipetting systems, dispensers, centrifuges, mixers, spectrometers, and DNA amplification equipment as well as ultra-low temperature freezers, fermentors, bioreactors, CO2 incubators, shakers, and cell manipulation systems. Consumables such as pipette tips, cell culture consumables, test tubes, microliter plates, and single-use bioreactor vessels complement the range of highest-quality premium products.
Eppendorf products are most broadly used in academic and commercial research laboratories, e.g., in companies from the pharmaceutical and biotechnological as well as the chemical and food industries. They are also aimed at clinical and environmental analysis laboratories, forensics, and at industrial laboratories performing process analysis, production, and quality assurance.
Eppendorf was founded in Hamburg, Germany in 1945 and has more than 3,000 employees worldwide. The company has subsidiaries in 26 countries and is represented in all other markets by distributors.
About LabRoots
LabRoots is the leading scientific social networking website, which provides daily scientific trending news and science-themed apparel, as well as produces educational virtual events and webinars, on the latest discoveries and advancements in science. Contributing to the advancement of science through content sharing capabilities, LabRoots is a powerful advocate in amplifying global networks and communities. Founded in 2008, LabRoots emphasizes digital innovation in scientific collaboration and learning, and is a primary source for current scientific news, webinars, virtual conferences, and more. LabRoots has grown into the world's largest series of virtual events within the Life Sciences and Clinical Diagnostics community.