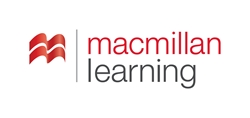 I'm pleased that via the GoReact partnership, we are able to help instructors provide feedback to students in real time, without having to devote hours of administrative time outside of class. Feedback is incredibly valuable for students' skill development. -- Erika Gutierrez, Sr Program Director
NEW YORK (PRWEB) April 05, 2018
Macmillan Learning, a premier learning solutions company, and GoReact, the leading video-based skills training platform, today announced a strategic partnership designed to bring video coaching and assessment to college courses at scale. The seamless integration of the cloud-based GoReact into Macmillan's LaunchPad offers an intuitive and trusted environment for instructors to quickly share time-coded feedback on student speeches, and for students to practice and enhance their public speaking skills.
Commenting on the integration, Macmillan Learning Senior Program Director, Erika Gutierrez stated, "We've conducted countless focus groups with instructors teaching Communication courses and, invariably, time management surfaces as a pain point. I'm pleased that via the GoReact partnership, we are able to help instructors provide feedback to students in real time, without having to devote hours of administrative time outside of class. Feedback is incredibly valuable for students' skill development."
Developed at Brigham Young University by a professor seeking to critique student presentations, the GoReact video platform simplifies the process of instructors and students sharing feedback on video presentations by capturing video and time-coded comments together in an elegant interface. University students in hundreds of schools across the U.S. and internationally have submitted over 4 million video assignments using GoReact.
"We're excited to partner with Macmillan to bring world-class video assessment to LaunchPad," says Ken Meyers, founder and CEO of GoReact. "College educators everywhere are seeing immense value in real-world skill assessment as a core part of learning. Macmillan's integrated approach allows this type of rapid skill development in a really nice, seamless workflow for both on-campus and online classes."
Adopters of Macmillan Learning's market-leading LaunchPad for Communication courses will continue to receive hallmark eBook, quizzing, and practice content, along with enhanced video assessment tools powered by GoReact. The new integrated video assessment program is live in LaunchPad for Speech Craft, A Speaker's Guidebook 7th edition, and Real Communication 4th edition.
"It's an effective and efficient way to grade speeches, provide real-time feedback, incorporate technology in the classroom, and develop a more trusting relationship with students regarding the grading process," said Professor Tiffany Jones of Wharton County Junior College. "This product is great for face-to-face, hybrid, and online classes."
To learn more about Macmillan Learning's powerful video teaching and learning applications, please visit: https://youtu.be/8cFVIwz0jq0
About Macmillan Learning:
Macmillan Learning improves lives through learning. Our legacy of excellence in education informs our approach to using user-centered design, learning science, impact research, and data mining to develop world-class content and pioneering products that are empathetic, highly effective, and drive improved outcomes. Through deep partnership with the world's best researchers, educators, administrators, and developers, we facilitate teaching and learning opportunities that spark student engagement and improve outcomes. We provide educators with tailored solutions designed to inspire curiosity and measure progress. Our commitment to teaching and discovery upholds our mission to improve lives through learning. Macmillan Learning includes both academic and institutional divisions. To learn more, please visit http://www.macmillanlearning.com or see us on Facebook, Twitter, LinkedIN or join our Macmillan Community.
About GoReact:
GoReact was originally developed at Brigham Young University and pioneered live in-class presentation feedback using its patented sync technology. Today, GoReact is the premier platform for video-based skill development across many disciplines, simplifying the lives of instructors and coaches who use video to improve performance-based skills for their students. For more information, visit goreact.com.