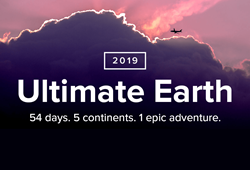 "Ultimate Earth is a once-in-a-lifetime adventure," says Michelle McNeice, VP of Marketing, EF Ultimate Break. "We're thrilled to offer this second tour with two dates so more 18-29-year-old travelers can have a summer filled with checking things off their bucket list."
Boston, MA (PRWEB) April 04, 2018
By popular demand, EF Ultimate Break, a leader in immersive- and millennial-tailored travel experiences, announced today a second "Ultimate Earth" trip, an epic "around the world" adventure that will explore five continents in 54 days. EF is also searching for one uber-talented person to participate in the trip for free as its "Ultimate Storyteller." Could it be you?
"Ultimate Earth is a once-in-a-lifetime adventure," says Michelle McNeice, VP of Marketing, EF Ultimate Break. "We're thrilled to offer this second tour with two dates so more 18-29-year-old travelers can have a summer filled with checking things off their bucket list."
Ultimate Earth 2019 will start accepting reservations today for exclusive departure dates on May 22, 2019 and June 19, 2019. Each Ultimate Earth trip will take thirty travelers to sixteen of the world's most amazing cities including Rio de Janeiro, Paris, Dubai, Bangkok, Athens, Johannesburg, and others. EF's one-stop, stress-free booking includes almost everything travelers could need including:

Around the world airfare
24/7 Rock star Tour Director
Daily local breakfasts and guided sightseeing
Fellow awesome and passionate travelers
Easy, interest-free payment plans
Effortless fun. Wild adventure. Shared memories. Zero stress.
Is This You? EF Ultimate Break Seeks "Ultimate Storyteller" to Chronicle "Ultimate Earth"
EF Ultimate Break is seeking one uber-talented person to send on its Ultimate Earth 2019 trip for free! The assignment? Serve as the "Ultimate Storyteller" and capture the experience – on film, video, and paper – while documenting what happens when 30 people travel together on a 54-day, 9-country, 5-continent adventure. For those up for the challenge, down to try new things, and all-around excited for the possibility of seeing the world, this is sure to be the best job ever!
Travelers interested in learning more or booking a spot on Ultimate Earth should visit Ultimate Earth 2019.
Individuals interested in applying to be Ultimate Earth's "Ultimate Storyteller" have until April 30th to submit their application.
About EF Ultimate Break
EF Ultimate Break is the best way to experience the world for anyone 18-29. All 60+ trips include everything from airfare and accommodations to flexible payment plans and free daily breakfasts. As a proud part of EF Education First, EF Ultimate Break draws on over 50 years of EF expertise to add amazing travel experiences to its growing tour portfolio. EF, the world leader in international education, has helped more than 15 million people learn a language, discover the world or earn an academic degree to date.