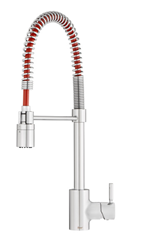 Making small upgrades over time can still have a big impact on a kitchen, and deliver great satisfaction in the process.
MOBILE, Ala. (PRWEB) April 05, 2018
Kitchen renovations are among the most popular projects for homeowners, but not everyone wants to spend upwards of $20,000 for a complete remodel. Home Improvement Expert and host of "Today's Homeowner," Danny Lipford, rescues home enthusiasts who want to improve the look of their kitchens, but without the high price tag.
To share his advice nationwide, Lipford launched a series of TV segments airing April 2-9. In the segments, he points out several areas of the kitchen homeowners can address when considering upgrades.
"I often hear from homeowners who feel overwhelmed at the thought of remodeling their kitchen because it seems daunting – and expensive – to take it down to the studs for a complete update," said Lipford. "What so many of them don't realize, though, is it's easy to break projects down instead of tackling a total re-do all at once. Making small upgrades over time can still have a big impact on a kitchen, and deliver great satisfaction in the process."
Lipford recommended several options for a kitchen mini-facelift:

Introduce a few glass-front cabinets.
Glass-front cabinets are a simple upgrade that can make even the smallest kitchen feel larger. Lipford points out they add brightness to the room and offer an opportunity to display collectibles or favorite glassware and dishes.
Lipford recommends adding a backsplash to give your kitchen a stylish focal point. With so many different types and styles available today, homeowners can create a tiled look for the entire kitchen, or perhaps just a small area behind the stove or around the sink area. Tiling is a DIY-friendly project according to Lipford who offers this tutorial video as a guide.
Paint or upgrade countertops.
Lipford notes that with improvements in manufacturing, the cost of granite countertops is more affordable than ever. If installing new countertops doesn't fit your budget, he suggests painting as an alternative. There are paints available today made specifically for countertops in a variety of options.
Changing out hinges, pulls and knobs on cabinetry is one of the easiest and least expensive ways to upgrade a kitchen according to Lipford.
Many homeowners today are gravitating toward commercial-inspired options to give their kitchens a gourmet, professional look. To achieve this look on a budget, Lipford recommends a kitchen faucet upgrade. There are tons of options and styles available today, and it's something most homeowners can do for themselves with a little research and preparation. Lipford introduced viewers to The Foodie Faucet from Danze by Gerber as an example of how designers are adapting the commercial look and making it available and affordable for the average home kitchen. The red Caliente faucet makes quite a statement, but the line also comes in satin black, stainless steel and chrome.
The lifestyle segments will reach over 8 million viewers and are sponsored by Today's Homeowner Media and Danze by Gerber. Find additional kitchen makeover tips and home improvement advice at TodaysHomeowner.com.
About Danze
For nearly 20 years, the kitchen and bath industry has known Danze as a leader in product design and beautiful styling. What industry professionals and homeowners alike may not have known, is that Danze is a sister company to Gerber – an 85-year-old manufacturer of some of the highest performing, most reliable products on the market. To best meet the diverse and ever-changing needs of home products, Danze has transformed to be Danze by Gerber. A perfect blend of the handcrafted, trusted performance of Gerber on the inside, with the beautiful design on the outside. That combination can be found in a range of kitchen and bath faucets, bath accessories and shower systems. Learn more at danze.com.
About Today's Homeowner Media
Today's Homeowner is a trusted home improvement authority delivering fresh, original, practical advice to consumers across diverse media platforms including the top-rated, nationally syndicated "Today's Homeowner" television show, now in its 20th season and its radio counterpart, the nationally syndicated "Today's Homeowner" radio show. Additionally, the media brand hosts the top home enthusiast destination website, TodaysHomeowner.com, drawing nearly 2 million monthly visitors, robust social media channels and the award-winning lifestyle blog and web series, "Checking In With Chelsea." 3 Echoes Productions, the professional production arm of the brand, serves an impressive national clientele with expert video services.
Host and founder of the brand, Danny Lipford, is among the most sought-after home improvement experts in the country. The seasoned remodeling contractor and media personality served as the home improvement expert for CBS's "The Early Show" and The Weather Channel for over a decade and has made more than 190 national television appearances on "FOX&Friends," "Inside Edition," "Morning Express with Robin Meade," FOX Business Channel, "Rachael Ray" and more. He travels the country making appearances as a brand ambassador and spokesperson, and contributes expertise to hundreds of popular magazines and online media outlets each year.