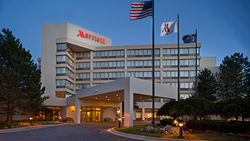 The redesigned hotel is first and only hotel in the Detroit area to feature the new Marriott design
DETROIT (PRWEB) April 06, 2018
The extensive transformation of the Detroit Marriott Southfield Hotel is now complete after over $12 million has been spent on a top-to-bottom redesign of this property in Southfield, which is known as "The Center of it All" with a cosmopolitan, culturally diverse population, a thriving international business community and easy access to the Detroit area.
The renovation included all public spaces such as the lobby, all guest rooms, pool, fitness center, the restaurant, a new concierge lounge and a new business center. The redesign and transformation were overseen by Crescent Hotels & Resorts, which manages the hotel property. Crescent, based in Fairfax, Virginia is a nationally recognized award-winning manager of premier hotels, resorts and conference centers throughout the United States and Canada.
The redesigned hotel is first and only hotel in the Detroit area to feature the new Marriott design, which includes replacing all carpet in guest rooms with chic and clean hardwood floors that are accented by area rugs, low profile platform beds, expanded closets, walk-in showers with hand-held shower wands, among other new modern designs. And the Detroit Marriott Southfield Hotel will offer enhanced comfort with complimentary slippers and robes for concierge level guests.
For more information or to make a reservation, visit http://www.marriott.com/dtwsl or call 248-356-7400.
_
About Crescent Hotels & Resorts:
Crescent Hotels & Resorts is an award winning, nationally recognized, top-3 operator of hotels and resorts. Crescent currently operates over 100 hotels, resorts and conference centers in the US and Canada. Crescent is one of the few elite management companies approved to operate upper-upscale and luxury hotels under the brand families of Marriott, Hilton, Hyatt and IHG. Crescent also operates a collection of legendary independent lifestyle hotels and resorts under Latitudes Collection, Lifestyle by Crescent. Crescent's clients are made up of hotel REITs, private equity firms and major developers. For more information, please visit http://www.crescenthotels.com, http://www.latitudesbycrescent.com or connect with Crescent on LinkedIn.