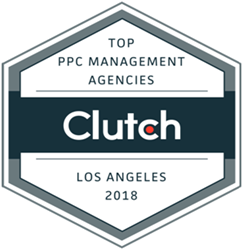 In a competitive market, it is important to stand out for top-notch service
LOS ANGELES (PRWEB) April 10, 2018
LAD Solutions has announced that the company has been recognized as one of the Top PPC Agencies in Los Angeles for 2018 by Clutch. This announcement comes after the company was previously ranked as a top SEO firm in 2016, 2017 & 2018, making this yet another achievement for the company in receiving such recognition from Clutch.
Clutch, an online IT research firm based in Washington, D.C., is a company that regularly evaluates and ranks the best software companies and professional services firms from cities across the United States. By conducting a nationwide search for top companies, Clutch is able to identify those firms that are truly delivering excellence to clients in their local markets.
In evaluating the top PPC firms for their yearly rankings, Clutch makes use of a proprietary process which is designed to effectively identify companies that are outperforming in all aspects of their business. The process involves intensive research which evaluates companies for their ability to meet the needs of their clients at all stages of growth from startup to mature business. Since its founding in 2012, Clutch has delivered reviews and rankings for more than 500 companies in over 50 markets.
Clutch analyzed the company's technical certifications, experience level, and market presence for PPC advertising with the Los Angeles area. Representatives from Clutch also spoke with previous clients of LAD Solutions in order to learn more about how the firm approaches challenges, helps their clients to develop their business strategies, and executes customized advertising campaigns.
For 2018, LAD Solutions has been ranked among other top Pay-Per-Click companies on the Clutch website. To commemorate the recognition, LAD Solutions has received an exclusive listing on the Clutch website. It outlines the services that the LAD Solutions provides and highlights the company's prominence in the Los Angeles area.
"In a competitive market, it is important to stand out for top-notch service," said Katie Chambers, business analyst at Clutch. "The companies listed here are not only recognized for delivering exceptional products and experiences but also for solving complex business challenges. Our team is excited to watch these companies grow and continue their great work!"
Clutch has also issued an official press release which names LAD Solutions as one of the top PPC advertising firms selected. This press release is now available on the Clutch website. For more on this award, LAD Solutions is available to answer any questions about Clutch's ranking and selection process. To read the review of LAD Solutions, go to the clutch.co/agencies/ppc/los-angeles for more information.
About LAD Solutions: LAD Solutions provides a full range of online marketing services to business throughout the Los Angeles area and across the United States. As top SEO & PPC experts, Lakshmi Kodali, Ali Pourvasei, and David Barkhordari, LAD Solutions was founded in order to help businesses of all sizes drive targeted traffic and increase their sales. To learn more about the services offered by LAD Solutions, visit ladsolutions.com.