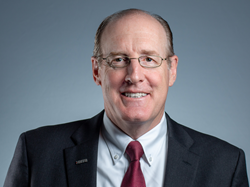 John's expertise and counsel will be especially critical to our valued clients as they meet current demands and prepare for future growth.
KANSAS CITY, Mo. (PRWEB) April 05, 2018
John Barton, PE, has joined HNTB Corporation, assuming a national role as DOT market sector leader and senior vice president. Barton, working in collaboration with regional/division presidents and office leaders, develops and directs strategies that enhance HNTB's service to state departments of transportation across the country. He is based in the firm's Plano, Texas office.
"John is a critical addition to HNTB's leadership team," said Doug Mann, FASLA, HNTB corporate development president. "His experience with TxDOT and Texas A&M's Center for Infrastructure Renewal translate well to other DOT and transportation agencies around the country. Our firm is proud to be a leading infrastructure solutions provider to state DOTs. John's expertise and counsel will be especially critical to our valued clients as they meet current demands and prepare for future growth."
Barton comes to HNTB from the Texas A&M University System where he most recently served as associate vice chancellor and executive director of the RELLIS Campus. He directed all activities related to the development and operation of the new TAMUS RELLIS Campus and provided executive oversight of the operations, research, innovation, education and workforce development activities of the new Center for Infrastructure Renewal. He served as lead staff to Commissioner John Sharp's team assembled to staff the Governor's Commission to Rebuild Texas. He also led multiple strategic initiatives for The Texas A&M University System and the Texas A&M Engineering Experiment Station. In addition, he served as professor of practice in the Texas A&M University engineering department.
Prior to that, Barton spent nearly 30 years at the Texas Department of Transportation. He served the Department in several leadership roles, including most recently as deputy executive director, administration, where he directed and oversaw all TxDOT operations and the management and operation of the state's transportation system.
In 2017, Barton received the John "Jake" Landen Memorial Safety Award for Lifetime Contributions from the American Road & Transportation Builders Association. He also is a past recipient of the Federal Highway Administrator's Public Service Award; the American Association of State Highway and Transportation Officials President's Special Award of Merit; and the Governor Rick Perry Leadership in Transportation Award.
Barton received a bachelor's in civil engineering from Texas A&M University. He completed the Governor's Executive Development Program – University of Texas, LBJ School of Public Affairs. He is extremely active in professional associations, including currently serving as vice chair, Intelligent Transportation Society of America Leadership Circle, on the advisory board for the Southwest Research Institute, Lamar Civil Engineering, and the Center for Advancing Transportation Leadership and Safety.
About HNTB
HNTB Corporation is an employee-owned infrastructure solutions firm serving public and private owners and contractors. With more than a century of service in the United States, HNTB understands the life cycle of infrastructure and addresses clients' most complex technical, financial and operational challenges. Professionals nationwide deliver a full range of infrastructure-related services, including award-winning planning, design, program management and construction management. For more information, visit http://www.hntb.com.