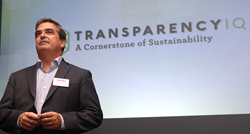 "Transparency is not a one-and-done solution, it is an ongoing and continually more complex business practice. But if done well, it is a business practice that can drive substantial brand and company value." –Mike McMahon, president and executive director, Path to Purchase Institute
CHICAGO (PRWEB) April 06, 2018
Major brands and retailers will gather on May 14-15, 2018 in Oak Brook, IL to support TransparencyIQ, the premier event focused on product transparency and its ability to drive consumer trust and brand loyalty. Produced by the Path to Purchase Institute, the conference will focus on how companies can strengthen customer loyalty through best practices in clarifying product information—ingredients, sourcing, production details, etc.—in order to become more transparent to consumers.
Attendees will learn the value of product transparency as a strategic business advantage, discover best practices in communications and marketing, and explore how disruptive and emerging technologies may actually enable more transparency. Attendees will have the opportunity to network in a collegial atmosphere, beginning with a kick-off reception and dinner on May 14.
Highlighted speakers include:
● Anne Bernier, Senior Director, Process Strategy, Topco
● Erin Hennessey, Director, Corporate Industry Affairs, Procter & Gamble
● Jay Porter, President, Edelman Chicago
● Roxi Beck, Consumer Engagement Director, The Center for Food Integrity
● Sarah Schmansky, Vice President, Nielsen Growth & Strategy
● Josh Sigel, Chief Operating Officer, Innit
Other presentations include a dynamic panel moderated by Joel Warady, CMO, Enjoy Life Foods, covering how small innovators are driving transparency and what steps every company can take to propel these initiatives.
"In 2018, we are taking TransparencyIQ to the next level by focusing on information that matters most to shoppers, what the future of transparency looks like, and the steps companies and brands must take to continually build and strengthen relationships with shoppers," says Michael McMahon, president and executive director of the Path to Purchase Institute. "Transparency is not a one-and-done solution, it is an ongoing and continually more complex business practice. But if done well, it is a business practice that can drive substantial brand and company value."
Advisory board members for TransparencyIQ include representatives from Hershey, Procter & Gamble, McKinsey & Company,Topco, The George Institute for Global Health, Edelman, and founding sponsor Label Insight. The advisory board provides guidance and perspective on content that will truly make an impact for retail, consumer product marketers, packaging, regulatory and NGO executives.
For more information, visit http://www.transparency-iq.com.
About the Path to Purchase Institute
The Path to Purchase Institute is a global association serving the needs of retailers, brands and the entire ecosystem of solution providers along the path to purchase. It champions shopper-centric thinking and practices that help define the ongoing evolution of consumer marketing and the overall shopping experience.