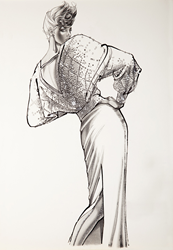 "Since these artists were not allowed to sign their work, their names are for the most part unknown, but they deserve a collective shout-out for their body of work- many of them of comparable talent and ability to those aforementioned names in fashion illustration."
BALTIMORE (PRWEB) April 05, 2018
As an American teenager hooked on art and fashion, Barbara Tyler Ahlfield will never forget a long-ago life-changing trip to the fashion advertising department of Sibley's- premiere downtown department store of Rochester, New York. Rows of catacomb-like cubicles lined a wall of towering windows where a team of female fashion illustrators were intently rendering fashion sketches of apparel to be advertised in the local newspaper. At that time, Barbara couldn't have known that her future cast her in the same profession spanning three decades plus working for over two dozen stores illustrating thousands of fashion figures.
For several decades- roughly the late 1920's through about 2000, women received their fashion news and guidance through magazines and newspapers. The magazines- such as "Vogue" ran fashion articles accompanied by an "editorial" fashion illustration. A group of celebrated male artists such as Rene' Gruau, Carl Erickson ("Eric"), Rene' Bouche' and Rene Bouet Willaumez worked for Vogue as editorial illustrators for many years until about 1963. The newspaper illustrators drew specific garments in a specific style unique to the store they were illustrating for and their drawings were aimed at selling merchandise.
More detail was required for advertising illustration. The bulk of these illustrators were women except for those in New York City. The New York illustrators became the household names in fashion illustration- some of these were Kenneth Paul Block, Fred Greenhill, Jim Howard, David Halpern, Antonio Lopez and George Stavrinos. These men were embraced as rock stars in the fashion world and had the benefit of being in New York City- the recognized center of American fashion and brimming with illustration work from designers and manufacturers. Additionally, male fashion illustrators were allowed to sign their work both in newspaper and magazine assignments, used live models, had agents and were undeniably great artistic talents. There were several women – among them Dorothy Hood, Barbara Pearlman and Esther Larson also working at this time and notably talented but nowhere near as lauded as their male counterparts.
In the rest of the country, there were hundreds of staff fashion illustrators and some free-lancers who illustrated for the many department stores from coast to coast. Although there were men, the majority were female. Every store had a lead illustrator as well as accessories artists and home fashions artists. Staff illustrators were generally expected to be able to render men, women and children convincingly. Dozens of these illustrators built decades-long full careers as fashion artists- some at one store their entire career- others working for many stores. Colleges offered fashion illustration as an art elective and major and students were confident of work in a stable field that would offer decades-long employment.
This era essentially ended for good around the year 2000 as stores closed, photography replaced illustration and people began to turn to internet shopping. As one of these illustrators who worked in five stores as lead staff illustrator and free-lanced for another twenty, Barbara Tyler Ahlfield says she saw abundant talent and variety from female fashion illustrators everywhere. Ahlfield states: "Since these artists were not allowed to sign their work, their names are for the most part unknown, but they deserve a collective shout-out for their body of work- many of them of comparable talent and ability to those aforementioned names in fashion illustration."
Today fashion illustration is almost completely editorial. It has recently begun to be recognized as a bona-fide art form with significant historical as well as artistic value. Although it is no longer a part of department store/newspaper advertising, nothing has replaced the fantasy and immediacy of a beautiful, well executed fashion illustration in its ability to inspire a woman to imagine herself in a wonderful garment.
For more information on Barbara Tyler Ahlfield and her illustrations, please visit: http://www.barbaratylerahlfield.com/
About Barbara Tyler Ahlfield:
Barbara started drawing at the age of two, decorating her bedroom walls with crayon fashion drawings. As a child, she was fascinated with the glamorous fashion she saw in the classic black and white films and television shows as well as the formal portraits she studied during children's classes at the Rochester Memorial Art Gallery.
Following college, she united her loves of art and fashion into a career that spanned 30 years as one of the leading, award winning retail fashion illustrators in the country. The archive of her illustrations is one of the few existing collections of American female fashion illustration over the last quarter century and offers a retrospective of the American woman's evolving sense of style as well as changing illustrative styles.
On any given day, her full-page illustrations appeared in many of the major newspapers in the country including the New York Times, Chicago Sun Times, Washington Post, Philadelphia Inquirer, etc. showcasing top American fashion designers for the major US department stores such as Lord and Taylor, Nordstrom, Dillards, John Wannamaker and many more.
For the last five years, Barbara has concentrated on contemporary fine art portrait painting. She has united her interest in pets and glamour portraits and offers both today. Barbara has exhibited in many art fairs globally, is represented by three galleries currently and is collected by private collectors in the United States and in Europe. This year, Barbara will have her first solo show in New York City in the Fall.
For more information, please visit: http://www.barbaratylerahlfield.com/