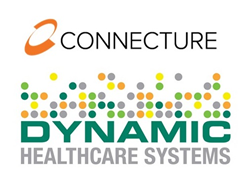 Connecture's shopping technology is considered the gold-standard in the Medicare market.
IRVINE, Calif., and BROOKFIELD, Wis. (PRWEB) April 06, 2018
Connecture, Inc. (OTCQX: CNXR), a provider of web-based information systems used to create health insurance marketplaces, and Dynamic Healthcare Systems, a leading provider of enterprise-wide solutions for health plans and health systems participating in Medicare Advantage, Medicaid, and Marketplace programs, today announced they have entered into an agreement to offer national and regional health plans in the U.S. more robust capabilities in managing their Medicare Advantage enrollment and fulfillment processes.
The integration of Connecture's front-end shopping platform along with Dynamic's back-end enrollment technology provides seamless end-to-end processing of Medicare Advantage applications: from intake of the beneficiary's application and confirmation of their eligibility with the Centers for Medicare and Medicaid Services (CMS), to enrollment in the plan and production and shipment of the welcome packets and ID cards.
"As regulatory changes and other market dynamics continue to impact the Medicare landscape, carriers are working hard behind the scenes to ensure their members have access to coverage that best fits their particular needs and financial situation," said Jeff Surges, president and CEO of Connecture. "Our goal is to make that experience – both from the payer and member perspectives – as simple and meaningful as possible, and in Dynamic, we've found a like-minded partner that complements those efforts."
"Connecture's shopping technology is considered the gold-standard in the Medicare market," said Brooks Corbin, CEO of Dynamic Healthcare Systems. "Providing access to their capabilities along with our back-end administrative system helps our payer clients deliver an improved member experience, increase operational efficiency, and reduce the likelihood of errors and compliance issues."
About Connecture
Connecture, Inc. (OTCQX: CNXR) is a leading web-based consumer shopping, enrollment and retention platform for health insurance distribution. Connecture offers a personalized health insurance shopping experience that recommends the best fit insurance plan based on an individual's preferences, health status, preferred providers, medications and expected out-of-pocket costs. Connecture's customers are health insurance marketplace operators such as health plans, brokers and exchange operators, who must distribute health insurance in a cost-effective manner to a growing number of insured consumers. Connecture's solutions automate key functions in the health insurance distribution process, allowing its customers to price and present plan options accurately to consumers and efficiently enroll, renew and manage plan members.
About Dynamic Healthcare Systems
Dynamic Healthcare Systems provides comprehensive solutions to health plans and health systems participating in Medicare Advantage, Managed Medicaid, and Marketplace programs. Dynamic's solutions help its clients optimize revenue and quality through the utilization of Dynamic's rich analytics that identify areas for potential improvement, help maintain compliance through ongoing enhancements aligned with CMS regulations, and enhance operational efficiency through fully integrated solution utilizing a centralized database and integrated workflows. Headquartered in Irvine, California, the company offers comprehensive software solutions, managed services, and professional services. For more information, visit dynamichealthsys.com or call 949.333.4565.
Media Contacts:
Jeff Hyman
Channel Marketing & Media Director, Connecture
818.415.2569
jhyman(at)connecture.com
Kristen Coleman
Media Relations, Dynamic Healthcare Systems
949.333.4565 ext. 180
press(at)dynamichealthsys.com