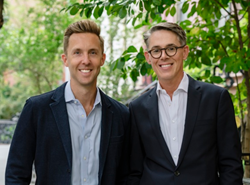 NEW YORK (PRWEB) April 05, 2018
Haute Residence welcomes the Mackay | Dixon Team to its invitation-only real estate network. Comprised of prominent real estate agents, Matthew Mackay and Benjamin Dixon, the team exclusively represents the high-end real estate market in Chelsea, New York, for Haute Residence.
Since their first transaction together in Gramercy over a decade ago, Mackay and Dixon have risen as one of the premier teams in New York City. In 2017, they ranked the seventh in Manhattan at Douglas Elliman Real Estate.
The success of the team lies in the effortless blend of Mackay and Dixon's individual skills and expertise. Mackay's encyclopedic knowledge of New York complements Dixon's background in finance. Together, they have closed some of the most upscale properties in the city, while bringing an informed, diligent yet relaxed attitude to their work with discerning clients.
About Matthew Mackay
Mackay doesn't believe in single deals, but in cultivating lifelong clients. A New York native and 25-year resident of New York City, he first became interested in real estate when looking for his first apartment in the city. Almost two decades later, he has over $700 million in closed transactions.
If Mackay has a motto in business, it's "karma is a boomerang." Or, as he explains, "I believe in what you put out there comes back to you. I've always believed that everything always works out in the end, if you put in the work." That belief has made him a confident, adaptable broker who is adept at riding the waves of the ever-changing New York real estate market. His 2009 Corcoran Deal of the Year award is a shining example of his can-do spirit and faith in the face of seemingly insurmountable obstacles.
About Benjamin Dixon
As a CPA and former alternative investment professional, Dixon is adept at guiding people through the often-stressful financial decisions that need to be made when buying or selling a home. During his tenure in private equity and real estate investment, he worked on over $50 billion of complex transactions across the globe, ensuring that each deal came together smoothly and in the best interest of his clients.
Dixon has always had a passion for real estate. He bought his first home at the age of 21 and converted the 2-unit building into a single-family home, selling it for 80% more in just three years. He subsequently purchased and renovated two additional properties, which he later sold for double-digit gains. Since 1999, Dixon has completed over 20 personal real estate transactions, achieving success regardless of market or economic cycles. He loves transforming spaces that are poorly designed or underutilized using his vision to achieve their full potential.
About Haute Residence:
Designed as a partnership-driven luxury real estate portal, Haute Residence connects its affluent readers with top real estate professionals, while offering the latest in real estate news, showcasing the world's most extraordinary residences on the market and sharing expert advice from its knowledgeable and experienced real estate partners.
The invitation-only luxury real estate network, which partners with just one agent in every market, unites a distinguished collective of leading real estate agents and brokers and highlights the most extravagant properties in leading markets around the globe for affluent buyers, sellers, and real estate enthusiasts.
HauteResidence.com has grown to be the number one news source for million-dollar listings, high-end residential developments, celebrity real estate, and more.
Access all of this information and more by visiting: http://www.hauteresidence.com