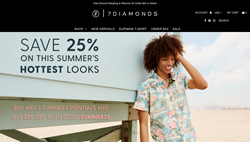 It's all about customer experience. We wanted to wow newcomers right out of the gate with an immersive site that rewards continued browsing.
LOS ANGELES (PRWEB) April 05, 2018
7Diamonds, Los Angeles designers specializing in premium men's apparel sold in department stores and trendy boutiques across the nation, announced the launch of an all-new custom website dedicated to showcasing their diverse array of hand-crafted garments. As a brand that has spent nearly two decades paying close attention to trends, the launch of a new site represents an opportunity do what they do best: hone in on details and craft an experience.
The site was designed first and foremost to showcase the craftsmanship that 7Diamonds puts into their garments. With a quick scroll, users are able to easily experience the products that 7Diamonds is known for. At the same time, going from browsing to checkout is quick and seamless with the fully integrated eCommerce cart, designed specifically to make purchases a snap.
Bence Daru, Marketing Director of 7Diamonds, expressed his enthusiasm for the new site. "It's all about customer experience. We wanted to wow newcomers right out of the gate with an immersive site that rewards continued browsing. We're excited to have balanced that experience with air-tight functionality on the eCommerce side, so we can channel that interest into conversion." He went on to add that, "We anticipate this website to result in continued growth for the 7Diamonds brand, and provide our customers with an easier, more artistic experience."
About 7Diamonds
Since its origins in Los Angeles in 2000, 7Diamonds has been recognized as a fashion-forward lifestyle brand that upholds the highest standards of quality. Combining a penchant for sophisticated designs, the highest possible quality, and everyday comfort and functionality, 7Diamonds can be found at Nordstrom and other luxury department stores and boutiques across the world.
https://7diamonds.com/