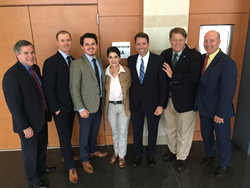 Ultimately, the Jury's unanimous verdict was in resounding agreement with the Taylors' opinion of value, as the Taylors were awarded with 100% of their requested compensation figure.
TAVARES, Fla. (PRWEB) April 06, 2018
A jury of twelve awarded property owners Scott and Elaine Taylor $4.9 million in an eminent domain case involving the Wekiva Parkway Project that proceeded before Circuit Court Judge Victor Musleh, in Tavares, Florida, in a case styled Florida Department of Transportation v. Scott B. Taylor, et al., CASE NO. 2016-CA-000797 (5th Judicial Circuit, Florida).
The Florida Department of Transportation ("FDOT") and the Central Florida Expressway Authority ("CFX") are constructing a 25-mile limited access toll facility that serves as the last link to complete Orlando's Outer Beltway. This last link is known as the Wekiva Parkway (SR 429) because the new highway crosses some of Florida's most protected and most imperiled parklands, which buffer the spring-fed Wekiva River. The project h+as been lauded by both the roadbuilding and environmental communities because the elevated design of the roadway will allow for continued connectivity of the sensitive wildlife corridors that will run without interruption beneath the new tollway.
Scott Taylor, a long-time advocate for protecting the fragile ecosystems within the Wekiva watershed basin, found his own property in the crosshairs of eminent domain. FDOT was charged, as part of the project, to relocate a section of CR 46A out of the Seminole State Forest. As such, FDOT acquired 61 acres of new right-of-way through the Taylors' 440-acre rural residential estate.
Taylor came to Florida with his wife, Elaine, in 1995 to locate a property that would not only allow him to build a secluded estate nestled among conservation lands, but also a home proximate to the Orlando MSA. Taylor, well-known for his brilliant career in banking at Chase Manhattan, including the "financial resuscitation" of both Lockheed Martin and Chrysler in the 1980's, also worked for years in high-profile corporate communications in New York City. In retirement, he wanted to apply his talents in assisting not-for-profit charities and environmental causes, which he has done assisting the Bach Festival Society of Winter Park, Mother's Milk Bank of Florida, Now I Lay Me Down to Sleep, Aquatic Preserve Alliance of Central Florida, and Audubon Society of Florida, to name a few of those organizations in Central Florida. Elaine, too, known for her life-long passion for equestrian pursuits, also wanted a property with its own riding trails and enough room to stable her on-going miniature horse breeding farm. The Taylors realized their dream by purchasing a property in the Wekiva watershed which is bordered on three sides by the Seminole State Forest upon which they built a magnificent home with both stable and paddock areas for Elaine's miniature horse farm known as Encore Farms.
In the years that followed, the Taylors continued to purchase and assemble adjoining properties to the original lands purchased for the purpose of conservation and pasture for beef cattle. Likewise, the neighboring property, once pasture, developed into the exclusive Redtail Golf and Country Club, where homes sell between $300,000 to $3,000,000. Today, the Taylors' property continues to be secluded, almost hidden behind a small gated entrance off SR 46, but with the construction of the new Outer Beltway, is located only 500 feet from a new interchange of the Wekiva Parkway.
As one of the last undeveloped, privately-owned properties of its size in the Sorrento area, FDOT selected the Taylors' property to route the relocated right-of-way for CR 46A. During the public hearings on the project, the residents of Redtail came out seeking to have FDOT acquire more of the Taylors' property in order to buffer their neighborhood from the anticipated roadway. The Taylors, who believed the project would serve a public purpose and benefit the ecosystems associated with the Seminole State Forest, helped to work a compromise in 2007 that ultimately provided Redtail with a 50-foot buffer within FDOT's planned 200-foot right-of-way. The Taylors, however, devastated on their own account, made it clear that they did not want to donate their land without receiving full compensation for the taking of their property, including whatever the damages would be visited upon their remaining property because of the new roadway.
Waiting almost 10 years for FDOT to commence its project, the Taylors found themselves in an eminent domain lawsuit with FDOT. They found as well that FDOT was only willing to pay an agricultural price for the land in the new right-of-way without almost any damage to their remaining property lying to the east of the new roadway. Court documents show that FDOT hired its own valuation consultants who, using comparable sales, estimated full compensation to be $1,700,000. The sales they considered, while located close by, were much smaller than the Taylors' property and more removed from the new interchange of the Wekiva Parkway.
Under Florida law, the measure of "full compensation" for the taking of private property, not only includes payment for the property taken, but also payment for any damages to an owner's remaining property. The owner is entitled to be made whole. In most instances, the property should be valued at its fair market value considering what a willing seller and willing buyer would agree in arms-length negotiations considering the highest and best use of the property subject to the transaction.
To protect their private property interests, the Taylors retained Brigham Property Rights Law Firm known for their defending property owners in eminent domain cases throughout Florida. Lawyers Andrew Prince Brigham and Brett Tensfeldt served as trial counsel. Court documents show that, through Brigham's law firm, the Taylors hired their own valuation consultants who, also using comparable sales, estimated full compensation to be $4,905,000. The sales they considered, while located much further away, were as large as the Taylors' property and were located proximate to new beltway interchanges. In fact, while some of these properties were located as far as the Tampa MSA, a few were also legacy-type, family-owned ranches or citrus groves that sold at tremendous prices due to transitioning land uses associated with various market forces of which an expanded transportation network played a significant role.
Without otherwise being able to resolve the case between them, the Taylors and FDOT proceeded with a 5-day long trial which ended last week on Good Friday, March 30, 2018. Court documents reflect that Brigham and Tensfeldt tried the more persuasive and convincing case wherein the jury rendered a verdict of $4,905,000 as "full compensation."
Brigham explained the jury's verdict as follows:
"The jury saw the property owned by Scott and Elaine Taylor to be a majestic property and, where a controlled-access facility of such proportion is to be constructed where a road did not exist before, it is without doubt that a property of tremendous value before the taking will also suffer a tremendous loss after the taking."
"We argued to the jury that the Taylors' property was like a gold mine. If the Taylors had wanted to develop the property with a high-end residential subdivision, it was theirs for the taking. However, by choosing to conserve the land with agricultural uses, it did not make their land any less valuable; such condition only showed that these owners did not want to disturb the surface to get at the gold."
Source: Brigham Property Rights Law Firm (http://www.propertyrights.com)
Property Owners Consultants: