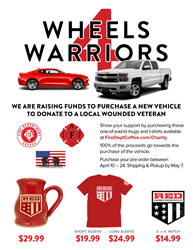 "So many of our veterans return home wounded with scars on their bodies and hearts," said Fire Dept. Coffee Founder and US Navy veteran Luke Schneider. "It can be physically, emotionally, and logistically hard to get back on your feet, which is where this fundraiser comes in."
CHICAGO (PRWEB) April 10, 2018
In partnership with the City of Rockford Firefighters Local 413 and the AFFI Warrior Program, Fire Dept. Coffee will donate 100% of the proceeds from Special Edition Remember Everyone Deployed (RED) merchandise from April 10-July 6 to the Wheels 4 Warriors Fundraiser.
Join the firefighter initiative by purchasing a RED Tee, RED Mug, or RED Patch at http://www.firedeptcoffee.com/charity.
"So many of our veterans return home wounded with scars on their bodies and hearts," said Fire Dept. Coffee Founder and US Navy veteran Luke Schneider. "It can be physically, emotionally, and logistically hard to get back on your feet, which is where this fundraiser comes in."
Wheels 4 Warriors works to lift the spirits of one local wounded veteran from the Iraq or Afghanistan War by awarding him or her with a new American-Made vehicle. The vehicle will be chosen by the warrior and outfitted with any special features related to his or her disability by the VA.
Fire Dept. Coffee offers high-quality, easy-drinking, and freshly roasted coffee flavors, developed to support the nation's hardest working men and women.
The Wheels 4 Warriors Fundraiser is set to launch April 10, and will culminate on July 6 with a big giveaway at the Rockford City Market.
To honor a local wounded veteran, visit http://www.iaff413.org and click on "Wheels 4 Warriors" tab to see all rules and nominate the local hero in need. Nominations will be accepted through May 30th.
To support the firefighter initiative to aid wounded veterans, please visit http://www.firedeptcoffee.com/charity.
About Fire Dept. Coffee:
Luke Schneider launched Fire Dept. Coffee in July of 2016 with the mission to bring the easiest drinking coffee to the nation's hardest working men and women. Luke is a Navy Veteran and firefighter paramedic, serving Rockford, IL. Learn more about Fire Dept. Coffee at http://www.firedeptcoffee.com.
To coordinate an interview with Fire Department Coffee, contact Brooke Daily at brooke(at)veteranpr(dot)com.