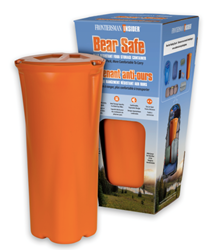 Our bear-resistant food safe is designed to provide superior comfort and portability for long-range hikes.
Chicago, IL (PRWEB) April 05, 2018
SABRE, the leading self-defense brand with over 40 years of experience, has launched the Frontiersman INSIDER Bear Safe for safer and easier packing and hiking.
The innovative bear-resistant food safe was designed for the outdoor enthusiast who's tired of being limited by the size, shape, and capacity of other containers on the market.
 
"Bear containers had a lot of room for improvement," explained SABRE CEO David Nance. "Too often they won't fit in a pack, so you have to carry them externally. This can cause physical discomfort and loss of energy."
Frontiersman INSIDER Bear Safe Advantages:

Sized for Family Use or Extended Hikes -- A storage capacity that's ideal for multi-day hikes with family and friends.
Easy & Safe to Carry -- Its ergonomic tapered shape provides greater space efficiency, fits inside backpacks, and assists with the hiker's center of gravity for better posture and more energy.
Water-Proof & Scent-Proof -- An integrated pressure-release valve automatically regulates and adjusts air flow when the force of a bear is applied.
Durable -- It uses a malleable, no-break polypropylene material that can withstand 60 minutes of a grizzly bear's attempt to crush, break, and open it.
Easy to Locate -- Its bright orange color makes it easy to identify when positioned away from camp.
Tested & Certified -- It was put through its paces at the Grizzly & Wolf Discovery Center (GWDC) in West Yellowstone, Montana by Interagency Grizzly Bear Committee (IGBC) bear-resistant products testing program.
"Our bear safe is designed to provide superior comfort and portability for long-range hikes," said Nance.
To learn more about SABRE and their latest products, visit http://www.sabrered.com or contact Brooke Daily at brooke@veteranpr.com.
About
SABRE, the no. 1 pepper spray trusted by police and consumers worldwide, is family owned and operated with four decades of experience and is the leading brand in personal safety. The company's law enforcement grade pepper sprays provide consumers with the same superior quality chosen exclusively by the New York Police Department, Los Angeles County Sheriff's Department, and law enforcement agencies worldwide.  Stay informed by following SABRE on Facebook @sabreredpepperspray, Twitter @SABRERed, Instagram @SABRESafety, or by visiting http://www.SABREred.com.