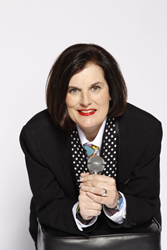 Paula Poundstone is the funniest human being I have ever known. - "Wait, Wait" host Peter Sagal
SAN RAFAEL, Calif. (PRWEB) April 06, 2018
Paula Poundstone returns to the Osher Marin JCC fresh on the heels of the release of her hilarious new book "The Totally Unscientific Study of the Search for Human Happiness" at 8 p.m. Saturday, June 9. The evening is co-presented by the Other Café Comedy Showcase and The Kanbar Center for the Performing Arts at the Osher Marin JCC.
On stage, Poundstone is known for her casual style, smart, observational humor, and a razor-sharp spontaneous wit that has become the stuff of legend. Garrison Keillor described her as "the bravest and best improv comic of our time."
A Paula Poundstone performance leaves folks marveling at her ability to interact with the audience, and the resulting hilarity. It's little wonder people leave her shows complaining that their cheeks hurt from laughter, and debating whether the random people she talked to are "plants" – which of course, they never are.
WHAT: Hysterical, spontaneous, surprising, smart comedy.
WHEN: Saturday, June 9, 2018 @ 8 p.m. No Host Concessions: 6:45 p.m.; Doors Open @ 7 p.m.; VIP Reception @ 7:15 p.m.
TICKETS: From $32.50 to $74.50 with 4 tiered seating options. Reserved VIP seating includes a pre-event private artist's reception.
WHERE: The Osher Marin JCC – Hoytt Theater, 200 N. San Pedro Rd, San Rafael, CA 94903 ~ 415.444.8000
MORE: Concessions include beer, wine, sodas, Peet's Coffee, Numi Teas, Sweets & Savories, and all allowed in the theater. More Info Available at JCC website (http://www.marinjcc.org)
VIDEO: https://www.youtube.com/watch?v=G6WnBZ5G6fc&feature=youtu.be