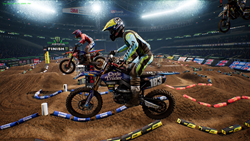 "It's been an incredible experience seeing the games come to life and the riders are equally - if not more - excited to be featured and to represent their sponsors in these games." --Mike DuClos, race team owner
NORFOLK, Va. (PRWEB) April 10, 2018
Cycle Trader, a division of Trader Interactive, announces their Cycle Trader Rock River Yamaha Supercross & Motocross race team has been included in three supercross/motocross video games in 2018. The team appears in Monster Energy Supercross 2018 (released February 13th), MX Simulator (updated in 2018), and Rainbow Studios' MX Vs. ATV All Out (released March 27th).
Cycle Trader has been the title sponsor for the Cycle Trader​ Rock River Yamaha Supercross & Motocross race team for more than four years, and in that time the team has grown in popularity. The team houses both 250 and 450 class riders and is supported by a staff who has a true passion and love for the sport. As a whole, the sport has seen an encouraging amount of growth in recent years, and the Cycle Trader Rock River Yamaha race team has experienced this first hand.
"In the past, most motocross and supercross games only featured extremely high-level or even fictitious riders in their video games," said Mike DuClos, race team owner. "So, when these three gaming companies reached out to us, we were ecstatic to be included and jumped at the opportunity. It's been an incredible experience seeing the games come to life and the riders are equally - if not more - excited to be featured and to represent their sponsors in these games."
For each game, the team's three 2018 riders (Bradley Taft, Brandon Harftrant and Alex Ray) were photographed with 3-D imagery, and the photos were then put together to create their life-like characters in the various games. "The photo shoot was an amazing experience," said rider, Alex Ray. "Being able to stand next to all of the people I consider heroes in our sport, and just being involved in the process with them was truly mind-blowing! It's been a long-time dream of mine to be included in a racing video game and I am excited that dream finally came true."
The Cycle Trader brand is featured throughout the games, appearing on the rider's current 2018 Yamaha bikes, Moose riding gear, the team transporter, and all the rider's apparel. But they didn't stop there, Cycle Trader also appears on hay bale covers, in signage throughout the stadium and outdoor tracks, on pit boards, tent tops, and even on documents in the game. Mike DuClos added, "These games are so lifelike, and the logo placement is realistic, right down to the wrinkles on the hay bale covers, gamers won't want to miss it!"
Keep an eye out for these games anywhere video games are sold or streamed, and for more information about the Cycle Trader Rock River Yamaha Supercross & Motocross race team, please visit: https://www.cycletrader.com/raceteam.
About Cycle Trader
Cycle Trader, a division of Trader Interactive, is composed of a unique portfolio of classifieds sites, including Cycle Trader, ATV Trader, PWC Trader, and Snowmobile Trader. With more than 400,000 new and pre-owned units available from dealers and private sellers, these sites connect millions of active powersports buyers to sellers across the country. Cycle Trader offers sellers a comprehensive suite of digital marketing solutions to help them advertise their inventory across all devices.
About Trader Interactive
Trader Interactive is the leading online classifieds marketplace and marketing software solutions provider to commercial and recreational dealers. Our mission to bring buyers and sellers together remains the core of our businesses. With a robust portfolio of B2C brands, consisting of Cycle Trader, RV Trader, ATV Trader, PWC Trader, Snowmobile Trader and Aero Trader, and a suite of industry-leading B2B brands including Commercial Truck Trader, Commercial Web Services, Equipment Trader and RV Web Services — Trader Interactive's sites produce over 7 million unique visitors monthly. We are focused on supporting our dealer and manufacturers by driving impressive results and committed to providing innovative products to ensure that our customers generate leads, drive sales and maximize profits. Trader Interactive has 10 businesses and approximately 300 employees with our home office located in Norfolk, VA.