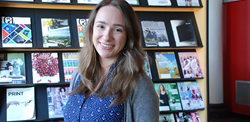 TROY, N.Y. (PRWEB) April 10, 2018
Healthcare marketing agency Smith & Jones recently welcomed their newest team member, Katie Sorce. As marketing and administrative assistant, Katie contributes to research and strategy projects, manages social media and digital marketing accounts, and assists with everyday agency tasks in content creation, account management, finance and operations.
"Katie is a great addition to our hospital marketing team," said Mark Shipley, Smith & Jones' CEO and Strategy Director. "Her experience working in the health care industry gives her a valuable perspective and she is always eager to lend a helping hand."
Prior to joining Smith & Jones, Katie received her BS in Mass Communications from State University of New York at Oneonta. After graduating, she was part of the promotions team for iHeartMedia in Rochester, New York. Most recently she worked as marketing manager for an integrated medical practice, running social media, managing websites and creating videos for the practice's four locations.
In addition to her role at Smith & Jones, Katie is currently pursuing her Master of Science in Communications from Syracuse University's Newhouse School.
About Smith & Jones
Smith & Jones is where healthcare brands come to get better. We help our clients create meaningful and desirable healthcare brands, align their internal teams, engage new and existing patients, and drive downstream revenue.