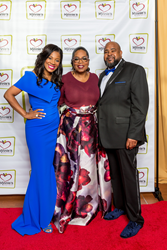 "True freedom is waking up in the morning and deciding what you want to do with your life. That is what I wish for each of you," Oprah Winfrey shared.
DALLAS (PRWEB) April 05, 2018
The Minnie's Food Pantry Feed Just One Gala 10th Annivesary celebration was nothing short of magical as global media leader and philanthropist Oprah Winfrey took the stage and inspired a sold-out room of 760 people to pledge a total of $1.3 million to support the organization in their mission to reduce hunger.
The evening was star-studded, starting with the red-carpet, graced by Dallas elite, including district attorney, Faith Johnson; literary agent, Jan Miller; NFL legend, Emmitt Smith and his wife, Pat; former major league baseball player, Torii Hunter and his wife, Katrina and actress and church leader, Priscilla Shirer, as well as Hollywood heavy hitters including, including Hollywood actress, Brely Evans; boxing legend, Floyd Mayweather; Adrienne Bailon, television host of The Real, gospel recording artist, Tasha Cobbs-Leonard and Kevin Frazier of Entertainment Tonight who hosted the event. Other notables included New York Giants linebacker, Keenan Robinson and his wife, Lauren; megachurch pastors Joel and Victoria Osteen, and John and Aventer Gray. GRAMMY® award winning gospel recording artist, Israel Houghton opened the show with his song, "The Power of One" and GRAMMY® award winning gospel recording artists, Donnie McClurkin, sang "Stand" in tribute to Cheryl Jackson's late mother, Minnie Hawthorne-Ewing, the namesake for Minnie's Food Pantry. Pastor John Gray gave the invocation and Floyd Mayweather greeted the crowd with a welcome, pledging to support Minnie's Food Pantry now and in the years to come.
Joel and Victoria Osteen, pastors of Lakewood Church, presented the Minnie Ewing Legacy Award to Emmy® nominated actress, author and President of LightWorkers Media, Roma Downey and award-winning television and film producer Mark Burnett, President of MGM Television Group and Digital. The legacy award identifies, supports and celebrates individuals who have demonstrated "the heart of a giver" in the same way that Minnie Ewing lived her life. It acknowledges individuals who have exhibited outstanding leadership and contributed at least 300,000 meals to Minnie's Food Pantry.
The highlight of the night was Oprah Winfrey, who inspired the audience as she described her life growing up in Mississippi, her grandmother's influence on her life and and how she lives her life with intention. "True freedom is waking up in the morning and deciding what you want to do with your life. That is what I wish for each of you," Winfrey shared.
Following her remarks, Oprah Winfrey announced a donation of $250,000, then charged the room to match her gift. Not only did the attendees rise to the occasion, but they exceeded even Winfrey's expectations, raising more than $1.3 million dollars in an impromptu fundraising fashion of coming to the stage and sharing their name and donation pledge. Rob and Melissa Wechsler donated $250,000 and Peter and Tatiana Concro, founder of Jersey Mike's Subs, was a $100,000 gala sponsor and also committed to an additional $100,000 annually for the next 5 years. Mark Burnett and Roma Downey donated $100,000 and Bill and Vicki Adkins contributed $25,000 to the event sponsorship and donated an additional $50,000. Event co-chairs, Torii and Katrina Hunter donated $50,000. In addition to the monetary donations, former WNBA star, Fran Harris, who owns Harris Real Estate Partners, pledged to acquire and restore the childhood home of Minnie Hawthorne-Ewing, Cheryl's mother and donate it to Minnie's Food Pantry.
The night was filled with surprises for the guests from the start, including a goody bag where each attendee received a sub from Jersey Mike's, a commemorative candle from Brighton the Occasion and K. Rashae, a special 10-year anniversary bottle of Dr. Pepper and a smart watch from Fossil, valued at more than $275.
Albertson's/Tom Thumb, Fossil, Toyota, Rembert Custom Builders, Jersey Mike's and a host of other companies, joined forces with Minnie's Food Pantry to support the 10th Annual Feed Just One Gala. Albertson's/Tom Thumb was the title sponsor and Fossil Group was the premier sponsor for the celebration gala. Toyota was the presenting sponsor of the Minnie Ewing Legacy Award. Other sponsors for the 10th Annual Feed Just One Gala included Jersey Mike's Subs, HEB Central Market, IBB Design, K' Rashae, Dr Pepper Snapple Group, Dr Venus Opal Reese, Sandy Nachman, GXA Network Solutions, Vicki and Bill Adkins, O'Neil Wysocki P.C., Flexpress Digital, At Home, Rent-A-Center, Wells Fargo, McAfee, Legacy Texas, US Trust, Merrill Lynch, Cynthia Bertrand, Willowbend, Neiman Marcus, Radio One and Plano Profile.
Founded by Dr. Cheryl "Action" Jackson, Minnie's Food Pantry has literally been rolling out the red carpet for more than 10 years as they provide food for families living in low income, food insecure households. An award winning non-profit organization and largest food pantry in Collin County, Texas, Minnie's Food Pantry has provided more than 7 million meals and brought the issue of food insecurity to the forefront on both a local and national level through features on national television shows including, Good Morning America, ELLEN, Steve Harvey TV and The Food Network. Through supplemental food assistance, educational resources and support from the community, Minnie's Food Pantry has changed the stigma associated with hunger and are further reducing hunger by expanding into schools across the country. Over the years, many corporate sponsors and celebrities have joined Minnie's Food Pantry in the fight to reduce hunger including former MLB pitcher Latroy and Anita Hawkins, Dallas Mavericks owner and business mogul Mark Cuban, Hollywood actresses Meagan Good and Regina King, movie producers DeVon Franklin and Will Packer, pop superstar Rihanna, actor Jim Parsons, recording artists Kenny Lattimore, Wess Morgan and BeBe Winans and now global media leader Oprah Winfrey.
###
PHOTOS: https://www.dropbox.com/sh/b3rd8gn7a9iycnb/AAA0sxuevjPR_WpfyS2cd02Fa?dl=0
ABOUT MINNIE'S FOOD PANTRY
Minnie's Food Pantry served their first family on April 1, 2008 by Dr. Cheryl "Action" Jackson to honor her mother, the late Dr. Minnie Hawthorne-Ewing. With a mission to provide healthy meals and resources, while serving its clients with dignity and honor by providing red carpet treatment to those in need. Since its inception, Minnie's Food Pantry has since distributed over 7.3 million meals to families experiencing food-insecurity. Minnie's Food Pantry receives no government support and is 100% community funded. For more information, visit http://www.minniesfoodpantry.org.