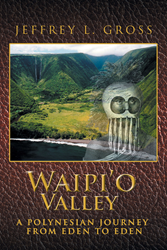 KAILUA-KONA, Hawaii (PRWEB) April 09, 2018
Inspired by his time living in Hawaii, Jeffrey L. Gross authored a detailed account of the long and rich history of the Polynesian people in "Waipi'o Valley: A Polynesian Journey from Eden to Eden."
The book recounts the remarkable migrations of the Polynesians across a third of the circumference of the earth. Their amazing journey began from Kalana i Hau'ola, the biblical "Garden of Eden" located along the shore of the Persian Gulf, extended to the Indus River Valley of ancient Vedic India, to Egypt where some ancestors of the Polynesians were on the Israelite Exodus, through Island Southeast Asia and across the Pacific Ocean. They voyaged thousands of miles in double-hull canoes constructed from hollowed-out logs, built with Stone Age tools and navigated by the stars of the night sky.
The Polynesians resided on numerous tropical islands before reaching Waipi'o Valley, the last Polynesian "Garden of Eden." Due to their isolation on the islands of the Pacific Ocean, Polynesian religious and cultural beliefs have preserved elements from mankind's past nearer the beginning of human history.
"While living in the Hawaiian Islands, I became interested in Polynesian history and traditional culture," said Gross. "As a result, I wrote this book to preserve Polynesian history."
The book is "…an exhaustive study that chronicles the migration of Polynesian voyagers," stated Clarion Review.
For anybody with an interest in Polynesian history, culture, and its people, "Waipi'o Valley: A Polynesian Journey from Eden to Eden" provides an in-depth look at the wonders of human exploration and development.
"Waipi'o Valley: A Polynesian Journey from Eden to Eden"
By Jeffrey L. Gross
ISBN: 9781479798445 (softcover); 9781479798452 (hardcover); 9781479798469 (eBook)
Available at the Xlibris Online Bookstore, Amazon, and Barnes & Noble
About the author
Jeffrey L. Gross is an architect living in Hawaii. Born in Washington D.C., he graduated from Washington University in St. Louis, Missouri, and first lived in the Hawaiian Islands during the late 1970s and early 1980s. His interest in Polynesian history and traditional culture led to the research for this book. To learn more, please visit http://www.waipiovalley.net.
General Inquiries:
LAVIDGE – Phoenix
Bryan Beach
480-306-6554
bbeach(at)lavidge(dot)com