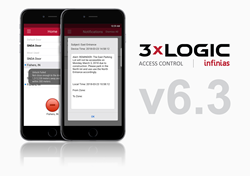 Unlike other offerings requiring expensive proprietary readers, our mobile credential application is agnostic to any reader on the infinias server. It can even work in a reader-less environment, because the application communicates directly to the server. Wayne Jared, 3xLOGIC VP of Engineering
WESTMINSTER, Colo. (PRWEB) April 05, 2018
3xLOGIC, Inc., a leading provider of integrated, intelligent security solutions, and a three-time Deloitte Technology Fast 500™ winner, today announced its newest version of the company's access control solution, infinias 6.3.
infinias 6.3 brings a number of powerful, new features:

Advanced Mobile Credential. Alert some or all credential holders to sensitive information quickly and easily.
New Responsive User Interface. Designed to deliver a superior user experience on all devices and platforms.
Infinias CLOUD's Elevator Control. Configuring for elevator control has never been easier for any number of elevator banks and cabs, and with support for up to 64 floors per bank/cab.
Integrated Wireless Locks. Integrated with Allegion's Engage NDE Series Wireless Locks.
Location Services. Administrators can configure how close a user must be to a door to gain access, to ensure phone (credential) is present.
The next generation of mobile credential is one of the most exciting features of this new release. 3xLOGIC's mobile credential adds push notification, location services, Multi-Factor authentication (MFA) and upgrades to the default door page.

Use push notification to alert all your credential holders of any events of significance, such as school opening delays or lockdowns. Notifications can be sent ad hoc to a single person or group, or use the industry-leading infinias Rules Engine for preconfigured notifications based on events. For example, receive a notification when a door is forced between 6 pm and 6 am.
Location services add two new capabilities: when a user brings up the app, the three nearest doors are shown automatically on the home page making the app more convenient, and Administrators can also configure how close a user has to be to a door to gain access, to ensure the phone is present.
Privileges can now be configured to require MFA and if so, a user will have to either already have or establish an unlock passcode/biometric/gesture/pin, thus adding "something you are" or "something you know" authentication forms to the existing "something you have" (the credential) for increased security.
"Unlike other offerings that require expensive proprietary readers, our mobile credential application is agnostic to any reader on the infinias server and can even work in a reader-less environment, because the application communicates directly to the server to trigger logic," said Wayne Jared, 3xLOGIC VP of Engineering.
Come see all of 3xLOGIC's industry-leading solutions at the ISC West tradeshow in Las Vegas, 11-13 April, booth #26099.
About 3xLOGIC
3xLOGIC Inc. has been a leading innovator in server and cloud-based security technology for 15+ years. The company is recognized for providing easy-to-use surveillance and business intelligence solutions that seamlessly integrate video, access control, and disparate data such as ATM, Point-of-Sale, analytics, and more.
3xLOGIC's video surveillance solutions are engineered for ease of installation, scalability and affordability combined with a managed services portfolio that enables integrators to effectively evolve from dealers to high-value strategic partners. Follow 3xLOGIC on Facebook, Linked-in, or our Twitter account, and read our latest news at http://www.3xlogic.com
For 3xLOGIC Media Queries:
Bruce J. Doneff
Public Relations
843.476.3022
doneff(at)verizon(dot)net
###