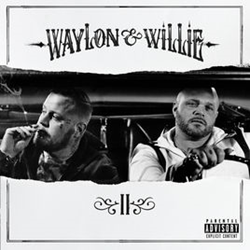 NASHVILLE, Tenn. (PRWEB) April 10, 2018
Nashville outlaws Jelly Roll and Struggle Jennings, the grandson of country music superstar Waylon Jennings, are making some noise after hitting the Billboard charts with their new album "Waylon & Willie II". The album debuted at position #6 on Billboard's Heatseekers Albums chart, which lists the best-selling albums by new and developing artists. Jelly Roll and Struggle's brand of intoxicating mixture of hip-hop and country won over fans of different genres as their new album simultaneously hit Billboard's Rap chart at #10, R&B/Hip-Hop Album chart at #14, and the overall Top Current Album Sales chart at #86. The chart positions continue to drive a powerful message to the Country music traditionalists that believe rap and country shouldn't mix and proves that Jelly Roll and Struggle cannot to be confined by the traditional trappings of country music.
Jelly Roll and Struggle dubbed themselves "Waylon & Willie" as an homage to the classic outlaw country music legends Waylon Jennings and Willie Nelson. Waylon & Willie's music paints a dark picture and details the trappings of life on the streets as they share their stories of drug addiction, survival, betrayal and the heartbreak of tragedy. Jelly Roll and Struggle Jennings bare their souls
Jelly Roll and Struggle will be on the tour from April through June in support of "Waylon & Willie II", including a stop at this year's Carolina Rebellion Festival alongside Queens of the Stoneage and Incubus.
Tour Dates:
Apr 11 – Warrendale, PA – Jergels
Apr 12 – Beckley, WV – Muncheez Live
Apr 13 – Lynchburg, VA – Phase 2
Apr 14 – Barberton, OH - The Garage Bar
Apr 20 – Medora, IN – RedneckRave
May 2 – Sarasota, FL – Old School Bar & Grill Sarasota
May 3 – Jacksonville, FL – Jack Rabbits
May 4 – Orlando, FL – The Sound Bar
May 5 – St. Petersburg, FL – State Theatre Saint Petersburg
May 10 – Joilet, IL – The Forge
May 11 – Lansing, MI – The Loft
May 12 – Toledo, OH – Civic Music Hall
May 18 – Wapakoneta, OH – Wapak Tug-Fest
May 19 – Harrison, OH – Blue Note Harrison
May 24 – Florence, SC – 507 LIVE
May 25 – Jacksonville, NC – Tar Heel Lounge
May 26 – Bristol, TN – Patton-Crosswhite
May 27 – Hendersonville, TN - The Revelry
Jun 1 – Bowling Green, KY – Spillway Bar and Grill
Jun 2 – Somerset, KY – KDL Outlaw Farm Fest 2018
Jun 8 – Greeneville, TN – Rio's Grill & Sports Bar
Jun 9 – Columbus, OH – Alrosa Villa
For more information including tour dates, music and merchandise please visit http://www.waylonandwillie2.com