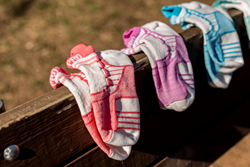 By using NanoGLIDE® fiber, THORLO created an ultra-thin, ultra-lite product for the most high performance bio-environment a runner's foot has ever experienced.
STATESVILLE, N.C. (PRWEB) April 05, 2018
True Innovation: When Less Becomes More
Proving two heads are better than one, THORLO partnered in a new strategic alliance with Next Fiber Technology to marry the best each has to offer. THORLO brought its form-fitting, ultra-light sock frame and was able to further minimize the ball and heel cushioning to a little more than a tenth of a centimeter by using a nano-technology fiber called NanoGLIDE® provided by Next Fiber Technology. The result is a cushion platform for a foot that virtually eliminates the chance of chafing, hot spots and blisters along with moisture build-up in a sock that is also 30% lighter than other leading ultra-light running socks.
Eight Design Partitions
The padding density in Experia® ProLite varies throughout the sock depending on function. The padding under the ball and heel is the thinnest padding the Thorlos brand has ever constructed for a runner's foot protection. This padding has fundamentally changed how long distance runners can protect their feet to better to improve their running times. The Achilles pad is the third most important padding engineered into the Experia® ProLite sock which protects the tendon and holds the heel in place. There are five more sections of the sock frame that all use a different yarn weave and fabric density to optimize the complete design for the performance requirements of serious runners focused on meeting their goals.
Blister Prevention 101
The foot perspires to help cool itself as heat builds from the frictional forces caused by running. As the miles increase, the forces and the heat dramatically increase, causing the body to further produce foot perspiration. It is important to move moisture away quickly after it cools the skin, otherwise, if left around too long, it actually increases unwanted frictional forces on the skin. These forces manifest as hot spots causing runners to either stop running or more likely unconsciously adjust their gait to invariably less efficient motion, creating energy depleting stress on other muscles, meaning a slower time or the inability to reach a goal.
By using NanoGLIDE® fiber, THORLO created an ultra-thin, ultra-lite product for the most high performance bio-environment a runner's foot has ever experienced. Perhaps the most novel aspect is the performance edge over other technical socks, which becomes more significant with each successive mile. Runners will like Experia® ProLite after a few miles for its superior comfort, and runners will love Experia® ProLite after mile 26 for how its "bio-environment" impacts run time. To learn more about Experia® ProLite or to place an order, visit the Kickstarter campaign at bit.ly/ExperiaKS.
About THORLO
THORLO is a North Carolina based sock manufacturer. The company's core product technology is engineered padding placed in the friction and impact zones of every sock it makes. This, in combination with other design features, protects the foot like no other resulting in a significantly more comfortable user experience for all that try a pair of Thorlos and Experia branded products. Beginning in 2017, THORLO began a complete transformation with utilizing state of the art knitting capabilities to capitalize on new lifestyle and performance verticals (including IoT) in the growing and evolving sock category. Introduction of Experia® ProLite began with a Kickstarter campaign to show where THORLO is headed in terms of product advancement and consumer communication. We invite you to learn more at http://www.thorlo.com.