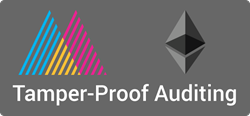 "Since data is stored in the blockchain, it's totally tamper-proof." - Jack Holt, CEO of Mattr
AUSTIN, Texas (PRWEB) April 10, 2018
Today Mattr announced the creation of a module within its influencer marketing platform that marketers can use to prove that they, and any partners they work with, are in compliance with federal social media marketing regulations.
Compliance with federal regulations has been challenging for marketers since the Federal Trade Commission introduced social media guidelines stating the disclosures necessary for sponsored posts in 2015. Since then, 90% of paid endorsements were undisclosed by the brand or influencer involved. In 2017, 93 brands and influencers were contacted by the FTC about undisclosed sponsored posts. However, this year the FTC has formed a dedicated team responsible for enforcing proper compliance, so the number is expected to rise.
Federal regulation compliance is an especially important issue for brands because ultimately they are the responsible party in any sponsored post relationship. A brand can be penalized if an influencer promoting their product or service doesn't include the proper disclosures in their post.
Tamper-Proof Audit Trail
Mattr's new module provides marketers with a solution to the compliance challenges they've faced over the past three years. Powered by blockchain-based Ethereum technology, the new module offers marketers tamper-proof compliance with FTC regulations, as well as with the various components of influencer marketing contracts. It both logs activities and notifies clients of compliance issues, providing immediate, actionable information.
FTC Compliance - Mattr can offer brands peace of mind that any and all sponsored post disclosures, including those by influencers they partner with, have been made and are in compliance with the FTC guidelines. The technology behind the brand's new module offers a transparent trail of proof that content was published, when it was published, and what exactly was published. This proof record is stored as a checksum on the public blockchain, meaning it can never be edited or deleted, and that any attempt to change the original content will also be recorded.
Mattr Compliance - In addition to FTC Compliance, Mattr's new module also can be used to ensure compliance with the terms and conditions included in contracts with influencers. Tracking the activities of paid influencers under contract is important to brands, but is typically a very manual process. Mattr's module can automate the process and be customized to track influencer activities that are specific to their contracts, such as:

Industry-specific regulations, such as FDA requirements for pharmaceutical companies
Using special hashtags or keywords
Not mentioning competitors
Including custom tracking hyperlinks
"Mattr's compliance module will help clients run more effective, more transparent influencer campaigns," said Jack Holt, CEO of Mattr. "But it will also save them money by eliminating the need for internal compliance audits. Since data is stored in the blockchain, it's totally tamper-proof."
About Mattr
Mattr is leading the way for revolutionary insight into influencer audiences. Mattr searches beyond celebrities to discover brand-aligned mid and micro influencers with like-minded audiences. Our dedicated account and community management team brings ease and end-to-end assistance to the entire influencer campaign process. As a member of the Enterprise Ethereum Association, Mattr is using blockchain-based Ethereum technology to to innovate influencer marketing technologies. Learn more at http://www.mattr.co.