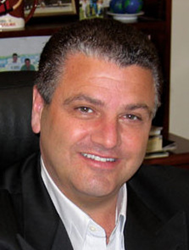 We were so impressed with the scope of Engelwood Health's environmental programs and their passion to be a change agent in the drive for a healthier, cleaner world
ENGLEWOOD, N.J. (PRWEB) April 09, 2018
Englewood Hospital and Medical Center, Englewood, New Jersey Receives 2017 Emerald Brand Sustainability Award for Healthcare
Emerald Brand, maker of everyday products that are sustainable, rapidly renewable, and environmentally responsible, announced the winners of its Fifth Annual Emerald Brand Sustainability Awards. Each year, the company recognizes its clients who have gone above and beyond in their efforts to implement sustainability programs through the use of Emerald Brand's Tree-Free™, compostable, and BPA free products and Emerald Ecovations' environmental programs.
By converting to Emerald Brand's sustainability program, Englewood Hospital saved a total of 239 trees, 21,081 pounds of plastic, and 37,286 gallons of water.
"We were thrilled to partner with Englewood Hospital and be part of the environmental initiatives they are implementing across their entire organization," said Ralph Bianculli, CEO. "Our ongoing commitment to innovation in this space has never faltered. It's not only rewarding, but inspiring, to see organizations such as Englewood share our vision and allow us to be part of their determination to be environmentally responsible. We were so impressed with the scope of their environmental programs and their passion to be a change agent in the drive for a healthier, cleaner world."
Englewood Hospital understands the importance of health and wellness, and is making a positive impact on their community by offering sustainable product lines in their facilities and embracing the need to be an environment leader.
"Our partnership with Emerald is just one of many proactive steps we are taking to ensure the health and wellbeing of our staff, patients and the environment we share. It's great to be recognized for our efforts in this area and we look forward to continuing our relationship with Emerald," said Liza Kind, Chief of Staff and the project manager of the sustainability effort at Englewood Hospital and Medical Center.
Additionally, in the last year, Englewood installed "Bigbelly" recycling stations throughout their campus, as well as recycling and composting stations in their café. This spring, Englewood will be introducing its first bee colonies, which will have a positive impact on the neighborhood and enable them to produce and bottle their own honey.
About Emerald Brand:
Family owned and operated since 1997, Emerald Brand produces everyday disposable products made from sustainable, alternative materials at affordable prices. Committed to sustainable and rapidly renewable solutions, Emerald Brand's innovations in Tree-Free™ technology and petroleum free plastics are revolutionizing packaging and disposables worldwide. Emerald Brand's growing suite of 250+ sustainable finished products offers the workplace a healthier and more sustainable environment.
In 2017 Emerald Brand's products and programs saved 19,589 trees, 748,047 pounds of plastic and 5,392,089 gallons of water.
Emerald Brand's corporate solutions include educational forums, measurable environmental impact statements, and consulting services that are at the forefront of future movements in composting and recycling. Emerald Brand, in conjunction with Emerald Ecovations Material Technology Group, will continue to innovate Emerald Brand's growing lineup of finished goods and retail packaging materials. The company's mission statement "Farm to Tissue, Made in the USA" is on track to revolutionize the entire industry.
Products are available for consumer purchase at http://www.emeraldbrand.com and for businesses at http://www.paradigm-grp.com
About Englewood Hospital and Medical Center:
Englewood Hospital and Medical Center in Englewood, New Jersey, is a leading provider of high-quality, comprehensive, and humanistic care. The hospital is nationally recognized for cardiac surgery and cardiac care, breast imaging and cancer care, spine surgery, orthopedic surgery, and maternity care, and is an international leader in patient blood management and bloodless surgery. Englewood Hospital and Medical Center is a "Best Regional Hospital" according to US News & World Report (2016-2017) and the only hospital in Bergen County and one of fewer than 100 in the nation to earn The Leapfrog Group's "Top Hospital" award for safety and quality (2014 and 2015). Since 2012, the hospital has earned a Safety Score "A" by Leapfrog, a record of achievement maintained by only five hospitals in New Jersey. In 2016, the medical center earned its fourth consecutive designation since 2002 by the Magnet Recognition Program® for excellence in nursing. Englewood Hospital and Medical Center is an affiliate of Hackensack Meridian Health and offers training programs for students and professionals, including an internal medicine residency program. Learn more about Englewood Hospital at http://www.englewoodhealth.org .