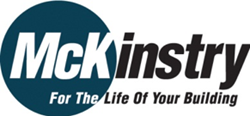 SEATTLE and DENVER (PRWEB) April 06, 2018
McKinstry promoted Brian Floyd and Chris Larocque to lead the company's national Energy & Technical Services organization. Floyd now serves as vice president and general manager while Larocque serves as vice president of operations.
Brian Floyd joined McKinstry in 2000 and has played instrumental roles in growing the company's energy, sustainability and facility service business lines. His deep industry expertise allows him to bridge the gap between construction and facility operations. Floyd has more than 20 years of industry experience.
Chris Larocque joined McKinstry in 2006. He is a 20-year industry veteran with a proven track record across construction, energy and facilities management. His forward-thinking innovation and energetic personality allow him to deliver world-class customer service that ensures satisfaction.
McKinstry further strengthened the national Energy & Technical Services leadership team through a series of regional and business unit promotions, including:

Leslie Larocque: Vice President, Energy & Technical Services for Mountain Regions
Since joining McKinstry in 2006, Leslie Larocque has built the company's extensive Energy & Technical Services business in the Mountain Regions from the ground up.

Dale Silha: Vice President, Energy & Technical Services for Pacific Northwest Regions
Dale Silha leads McKinstry's Pacific Northwest efforts to reduce costs and save energy in the built environment through customer-focused solutions. He joined McKinstry in 2010 and has been in the industry since 1990.

Justin Fallstrom: Regional Director, Energy for Western Washington & Oregon
Justin Fallstrom drives McKinstry's integrated design approach in Washington and Oregon to maximize building performance at the most reasonable cost. He joined McKinstry in 2008.

Steve Ruby: Regional Director, Energy for Rocky Mountain Region
Steve Ruby has more than 20 years of experience identifying client facility needs, and determining the best solutions to meet those needs. He joined McKinstry in 2009.

Phillip Saieg: Regional Director, Technical Services for Rocky Mountain Region
Phillip Saieg ensures Rocky Mountain Region client satisfaction through advanced technical and energy-related service delivery. He joined McKinstry in 2012.
"Energy & Technical Services is a growth area across McKinstry's national footprint," said Ash Awad, McKinstry's Chief Market Officer. "McKinstry now has the ideal leadership team to drive that growth by aligning facility condition assessments, commissioning, active energy management, performance contracting and other services to help our clients enhance building performance while cutting waste and costs."
About McKinstry
McKinstry is a full-service, design-build-operate-and-maintain (DBOM) firm specializing in consulting, construction, energy and facility services. The firm's innovative, integrated delivery methodology provides clients with a single point of accountability that drives waste and redundancy out of the design/build process. With over 1,600 professional staff and trades people throughout the United States and operations in more than 15 states, McKinstry advocates collaborative, sustainable solutions designed to ensure occupant comfort, improve systems efficiency, reduce facility operational costs, and optimize profitability "For The Life of Your Building." For more information, visit http://www.mckinstry.com.