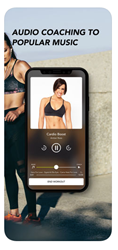 SAN FRANCISCO (PRWEB) April 06, 2018
Feed.fm today announces that MoveWith is utilizing its music-as-a-service product to provide Movers (MoveWith users) with expertly curated popular music to emulate the in-person experience of being coached by a boutique fitness instructor. MoveWith is reinventing the notion of the modern gym by offering 600+ audio classes from 30+ world class coaches specializing in everything from high intensity cardio and strength to running, yoga and meditation. Key to MoveWith's innovative fitness approach is providing motivation from multiple coaches, helping MoveWith grow over 50% every month with a community of over 200,000 and active subscribers averaging nearly 3 classes per week. The act of integrating expertly DJ'd, curated streaming music to workouts however, is no easy feat. "We've got our hands full reimagining and creating today's modern mobile gym and we didn't want to reinvent the music wheel," said Holly Shelton, MoveWith CEO and co-founder. "Feed.fm is the ideal partner to help motivate our Movers with an innovative approach to music."
Coaches In Your Ear With A DJ To Match
MoveWith clearly separates itself from the fitness tech pack with a line up of world-class coaches at each Movers' fingertips and earbuds. Taking these sweat pounding, in your face (or in the case of meditation, mindfully in the moment) coaches and converting their in-person, boutique approach to digital, truly is a secret sauce. "MoveWith needed to have amazing popular music that was on brand for the coaches and truly matched the motivational needs of the individual class. Coaches are DJs because they have to be, and because they know that music is an incredibly important part of any fitness experience," said Shelton. Feed.fm is able to provide MoveWith coaches with:

Expert music curation with the right BPM range and genre to map to the movement type.
Ability to duplicate the experience of a live boutique fitness class led by a coach from start to finish.
Soundtracks that are constantly updated with the latest, most motivating tracks.
"MoveWith has really figured out what it takes to recreate an amazing fitness experience on your phone," said Feed.fm CEO and co-founder Jeff Yasuda. "We love providing both Movers and coaches with expertly curated streaming music. The right workout music is proven to create dopamine, which helps runners, bikers, meditators, yogis and everyone in between to have the best fitness experience possible."
About Feed.FM
Feed.fm connects brands to their customers through music. Music is proven to drive user retention, social engagement and workout motivation. Top brands like Fitbit Coach, MoveWith, ClassPass, ASICS, DailyBurn and the LA Marathon are working with Feed.fm to integrate popular music in their workout experiences. Based in San Francisco, Feed.fm is funded by Crunchfund, Core Ventures Group, KEC Ventures, and Fyrfly.