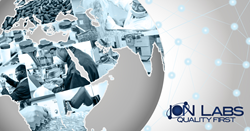 TAMPA, Fla. (PRWEB) April 06, 2018
In 2018, Ion Labs will expand their North American operation by taking on globally recognized customers that have a large reach in recognized retail and online e-commerce avenues. The products Ion Labs is manufacturing for these massive brands are going on to retail avenues such as Amazon, GNC, Target, Walmart, CVS, Walgreens 7-Eleven and Costco and becoming top-sellers in their perspective categories. It all starts with a quality first commitment to the customer experience. Ensuring that the customer is happy with their order, their service and the business connection with Ion Labs.
Ion Labs guarantees three main components to every client: transparency, trust and traceability. Transparency in their operations and communication. Trust in their methodology and experienced staff, and traceability in the high-quality products they develop daily and continue to test for stability year-after-year. When businesses decide to invest in Ion Labs and become a client, they come on-board with the idea to recreate existing products from their already successful catalog and continue to create new products to build their portfolio.
Businesses that respect and understand this model become clients of Ion Labs and gain access to every level of their vertically integrated operation. Full service access of Ion Labs as a client includes:

First hand product consulting with Research & Development team
Design and product messaging recommendation by Marketing & Design team
Superior communication and operation updates from Sales & Customer Service
In-house laboratory product testing and analysis
Integrated fulfillment and shipping
Ion Labs has set their sights on creating long-lasting investments for their company. Dedicating a multi-year commitment to provide a quality first experience in all aspects of their operation to a client is their goal. Grow profitable and successful together. In 2018, Ion Labs also began to build out their private label catalog and brought in new raw materials to create custom dietary supplements, pet supplements, OTC drugs and skin care products.
Ion Labs has incorporated the following groundbreaking updates to their facility in order to be on the forefront of the contract manufacturing industry:
8 Fully Automatic Encapsulation Machines
Ion Labs' capsules are visually appealing and can be produced in a wide range of colors and sizes to offer product differentiation. Hard shell capsules can be customized with a logo as well as text for a branding touch.
8 High-Speed Tablet Presses
Some advantages of Ion Labs' tablets include their ability to be produced at a large scale at the lowest cost compared to other forms, their high stability attributes, and their lightness and compactness. Tablets are easy for consumers to swallow. They also have the greatest dose precision and least content variability compared to other forms.
10 Powder Blenders
Advantages to powder form include its ability to provide a larger dose than with capsules or tablets, its easy absorption, and its non-required disintegration. Some other benefits to consumers include their ability to easily vary the dosage and the ease of taking them compared to other forms.
5 Bottling Lines
These bottling lines make it easy for the operations team to scale up production and increase productivity. Bottles are currently the most popular/requested container form in the supplement industry.
9 Liquid Capsule Machines (with 3 Banders)
Ion Labs' liquid capsules can handle a wide range of ingredients and excipients, as they can tolerate higher temperatures during filling. Liquid capsules tend to have a superior odor profile compared to other delivery forms, as they have the ability to minimize the odor of certain ingredients. Private label supplements along with custom supplement manufacturing are available with Ion Labs. Ion Labs has become a key capsule in capsule manufacturer by adding several new high speed production lines to their facility.