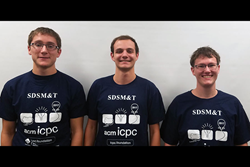 Russia is largely seen as the country to beat.
RAPID CITY, S.D. (PRWEB) April 09, 2018
A student team of computer programmers from the South Dakota School of Mines & Technology will compete at the International Collegiate Programming Contest (ICPC) April 15-20, in Beijing, China.
SD Mines students on the "Red Team" are Luke Videckis, a sophomore computer science and math major; Andrew Stelter, a senior computer science major; and Matthew Schallenkamp, a junior computer science and math major. Those interested in following the team during the competition can view live coverage of the event here.
This marks the eighth programming team in Mines history to qualify for the highest level of competitive collegiate computer programming in the world. Mines is one of 21 teams representing the United States at this global competition following the qualifying contest held November 2017. The Mines Red Team is the top ranked programming team among several contenders at the university that also did well in the regional competition.
Mines programming teams are led by emeritus computer science professors Toni Logar and Ed Corwin. The two professors bring decades of experience as coaches of Mines' coding teams. The long-term successes of this pair of coaches has won acclaim by the ICPC community. The husband and wife pair were instrumental in bringing the 2017 ICPC world finals to Rapid City, SD. The Mines programming teams also receive support from coaches Roger Schrader, Paul Hinker and Larry Pyeatt. Pyeatt will also serve as on-site coach for the 2018 world finals. Companies such as Microsoft have been huge supporters of Mines' programming teams, alongside important contributions from other donors.
Mines also fared well in the North American Invitational Programming Contest held Saturday, March 24. Hundreds of teams competed but only 45 were invited to the top-tier competition. Mines' Red Team finished 16th overall, beating universities such as Duke, Purdue, Texas A&M, Colorado School of Mines and the University of Minnesota. The Hardrockers were the top placing team between the west coast and Michigan reiterating their dominance in the Upper Midwest.
"It was particularly impressive that the team finished another problem 10 minutes too late which would potentially have placed them among the top 10 teams in the country. Hopefully this finish will give us momentum going into the world finals," says Coach Corwin.
Russian teams have won the ICPC world finals for the last six consecutive years. Russia is largely seen as the country to beat. Two members of the Red Team, Matthew Schallenkamp and Andrew Stelter, took part in an elite Russian computer coding boot camp in 2016, and they bring this experience to the international competition in April. The Mines Red Team also has an advantage in the experience of Schallenkamp, who returns to the world finals for a second time after representing Mines in the 2017 competition.