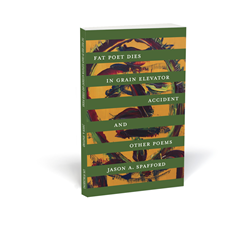 Fat Poet Dying in a Grain Elevator Accident is just not something that happens every day.
MINNEAPOLIS (PRWEB) April 05, 2018
Fat Poet Dies in Grain Elevator Accident and Other Poems is a collection of 118 poems that span the dark and the light with wide ranging influences that include Charles Bukowski, Dylan Thomas, Emily Dickinson and hip hop and rock music genres. The book is Mr. Spafford's third and most recent collection of poems.
National Poetry month was kickstarted in 1995 when the Academy of American poets brought together a group of poets, booksellers, publishers, librarians and teachers to discuss the importance of a month-long celebration of poetry. April of 1996 saw the first National Poetry Month. Each year a new poster is commissioned for National Poetry Month by the Academy of American Poets and distributed to community centers, Libraries and schools for free.
Cities across the country are highlighting poets' readings in the month of April. Go to the Academy of American Poets website to find out about readings near you and ways to celebrate National Poetry Month.
LPS Publishing has also published Mr. Spafford's other two collections of poems titled, Wanna Be a Rock – Star, Can't Play a Gui – Tar and Car Sick from Circus Peanuts. These works and Spafford's collection of humorous short stories can be found on Amazon and through LPS Publishing and Titleset Distribution. You can also find Jason Spafford's poems and short stories at on his blog titled Stay at Home Sad, humorously named after his time as a stay at home dad who would rather had not been there - with his kids - every - single - day.
For more information about Fat Poet Dies in Grain Elevator Accident and Other Poems send inquiries to info@Titleset.com.