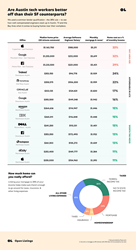 The influx of homebuying tech workers from Silicon Valley to Austin won't be slowing down.
LOS ANGELES (PRWEB) April 06, 2018
All-in-one homebuying platform Open Listings launched in Austin this week, bringing its free software and 50% commission refund to homebuyers in the Texas capital. Now, those searching homes for sale in Austin and greater Travis County can make a personalized real-time feed of listings, schedule house tours on demand, and create offers on any home through the Open Listings website or app. Buyers then get paired with a top-rated, local real estate agent dedicated to getting their offer accepted and closed.
In February, the Open Listings team did some research into how home affordability was becoming a problem for six-figure salaried tech workers across Silicon Valley.
After launching in Austin, they revisited their findings for San Francisco and pulled data on Austin to compare live and work affordability.
To do so, Open Listings compiled the median home sales prices near the headquarters (within a 20-minute commute time) of some of Austin and the Bay Area's largest and most well-known technology companies. They then used public salary data from Paysa to get average salaries for software engineers working for each company at these locations.
From there, Open Listings calculated the percentage of technology workers' monthly income that would be put towards a mortgage for a home nearby. Then, estimated the monthly cost of owning a home by using the mortgage payment for a 30-year year fixed loan with a 4% interest rate and added property tax to this figure based on the local rate in order to paint a more accurate picture of what a monthly payment would look like.
In short, Open Listings found that in the Bay Area, the median home sale price in the areas near the tech companies was an astronomical $1,203,750. Across Austin, the median home sale price around the offices of tech companies such as Dell, HomeAway, Indeed and Google was $265,011. A staggering difference of $938,739.
While the median salary for software engineers in Austin at the companies Open Listings analyzed ($124,582) was nearly half of the average salaries of software engineers at the companies analyzed across the bay area ($210,500), the surplus of not spending $938,739 on a house can go a long way in padding an income.
In fact, in Austin, tech workers would be able to afford a home within a 20 minute drive to work without ever really getting close to the 28% threshold.
The fully detailed story can be found on the Open Listings blog.
About Open Listings
Open Listings is the all-in-one homebuying platform that makes buying a home simple and more affordable. House hunt 24/7, get pressure-free advice from expert agents, create offers online, and save an average of $8,500+ with their 50% commission refund.