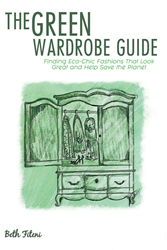 "The best part of the book is learning about all the alternatives currently available and where to find them. It's just a matter of looking."
(PRWEB) April 17, 2018
Author Beth Fiteni is the director of Long Island, New York-based nonprofit organization "Green Inside & Out." Fiteni holds a Master of Studies in Environmental Law and hosts an award-winning environmental radio show. She has been a dedicated ambassador for green living for more than twenty years, lecturing in English and Spanish and making numerous appearances on various news outlets.
With The Green Wardrobe Guide – Finding EcoChic Fashions That Look Great and Help Save the Planet she has seamlessly transitioned into the role of published author. Her book spreads the word about textile and fashion production practices that are harmful to the planet while revealing how and where average consumers find sustainable clothing and household goods. The best part is that the book contains a state-by-state listing of over 200 stores that carry eco-fashions, as well as a listing of shops carrying eco-baby clothing, and a list of brands catering to eco-menswear.
Her book shines a light on information most people do not know about fabrics they wear every day while highlighting steps consumers can take to have great looking clothes that are made with fewer of the potentially harmful toxins and chemicals often found in typical clothing items.
The book itself is a surprise. It is easy to read and entertaining, making a topic most people might find fact-heavy fun and light. The title itself indicates that there is an element of chic to the book giving readers a hint at what's inside. Readers will learn the pros and cons about fabrics made of organic cotton, hemp, bamboo, lyocell and even fabrics made from corn and algae as alternatives to traditional fabrics that are harming the planet. Also learn about animal based vs. vegan fabrics, eco-friendly bedding, and why you may want to think twice about which dry cleaner you use.
Fiteni says she was inspired to write the book after noticing that when she gave presentations and wore sustainable fashions, people were always curious and want to touch the fabric. "Most people would be shocked to know how their clothing is produced and the impact it has on the planet and garment workers—especially some of the famous brands," says Fiteni. Everyone wears clothing, so you don't need to be into fashion to benefit from gaining this knowledge," she says. "The best part of the book is learning about all the alternatives currently available and where to find them. It's just a matter of looking."
Others are talking about the book, too, including Summer Rayne Oakes who is co-founder of Le Souk and author of Style, Naturally, who says, "The Green Wardrobe Guide allows us to think more deeply about our clothes—from more sustainable textile options to the people behind them—so that we can make more educated decisions when we're looking to purchase the clothing we love to wear."
People interested in preserving the planet, reducing carbon footprints, or simply living more sustainable lives will learn how their clothing buying choices can make a difference in the pages of Ms. Fiteni's book.
Don't wonder if clothing and textile choices are the right ones for the planet. Read The Green Wardrobe Guide – Finding EcoChic Fashions That Look Great and Help Save the Planet and know beyond a shadow of doubt.
The Green Wardrobe Guide (978-1-4958-1216-3) is available on all major bookseller websites, including BuyBooksontheWeb, Amazon, Books-A-Million, and Barnes & Noble.