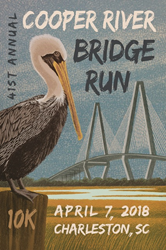 MATTHEWS, N.C. (PRWEB) April 05, 2018
Harris Teeter is proud to present the 41st Annual Cooper River Bridge Run (CRBR), being held this Saturday, April 7, 2018 in Charleston, S.C.
"Our Lowcountry roots run deep," said Danna Robinson, communication manager for Harris Teeter. "Which is why joining the Cooper River Bridge Run in 2017 as the Official Grocery Sponsor was an easy decision. We are thrilled to increase our commitment to Presenting Sponsor for the 2018 event, and we are grateful to our valued associates and vendor partners, working tirelessly behind the scenes to make this year's event a huge success."
Harris Teeter's commitment to the Charleston community is demonstrated by the company's growing number of stores, staffed by friendly associates committed to providing customers the absolute best shopping experience; the company's longtime, active partnerships with various local nonprofits; and its financial support of area schools through its Together in Education program.
Harris Teeter and its dedicated team of volun'Teeters' will support all CRBR festivities by providing snacks and refreshments at the Kids Run; hosting product demos with free samples and a photo booth during the Bridge Run Health & Wellness Expo; providing CRBR participants with water along the 10K route; and providing post-race food, refreshments and entertainment at the Bridge Run Finish Festival in Marion Square.
"Harris Teeter's commitment to the Cooper River Bridge Run and the Lowcountry surpasses our expectations," said Mark Cellars, Assistant Race Director. "The Harris Teeter team elevates our events with the same commitment to quality and customer service that you experience in their stores."
Harris Teeter would also like to thank its vendor partners: Coke-Consolidated, E.J. Gallo Winery and Niagra Bottling. Their generous support is invaluable in making Harris Teeter's Presenting Sponsorship possible.