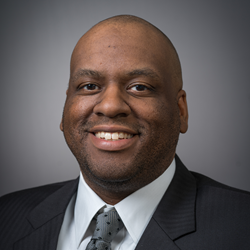 His extensive experience in eDiscovery, information management, data analytics, and cutting-edge technology is of great value to our team and we're excited for him to play an important role as the company continues to grow.
SILICON VALLEY, Calif. (PRWEB) April 10, 2018
Blackstone Discovery, the premier legal technology and consulting provider, today announced that Jamal Speller has been hired as a Senior Project Manager on its Client Solutions team. Speller is an experienced eDiscovery expert who has gained a reputation for his technical knowledge and dedication to clients during his 10+ years of managing eDiscovery projects. Known for his consultative approach and ability to align case strategy with eDiscovery, Speller's skill set merges seamlessly with BlackStone's strategy and advocacy approach to eDiscovery.
"Jamal's track record in client service and data analysis speaks for itself," said Thomas Gersey, BlackStone's Director of Client Solutions. "His depth of knowledge at all stages of the EDRM – eDiscovery, forensics, analytics – makes him a perfect fit with the consultant-driven, success-focused approach that our team is well-known for delivering to clients."
Before joining BlackStone, Jamal held management positions at Stratify, Navigant, Hewlett Packard, and PwC among other companies. He found early success in his career with Stratify as he managed 2 of the 3 largest projects in the company's history, propelling the company to grow from $4 million in revenue to over $50 million within three years and eventually saw the company acquired by Iron Mountain in 2007 for $160 million.
At PwC, Jamal managed the development of its LA Forensic Lab and advised clients on litigation readiness and eDiscovery best practices as Manager of Forensic Technology. As Client Services Director at Hewlett Packard, he ensured success for client information management programs and was responsible for implementing enterprise software solutions and executing implementations to improve internal and external processes. Most recently with Navigant, Speller worked in the Disputes & Investigations Consulting Practice managing high profile clients and strategic partnerships, developing training programs for Navigant Consultants, and assisting in numerous corporate and government investigations (including FCPA and SEC) from a technical perspective to recover and identify highly relevant and sensitive data.
"Jamal has been an instant fit at BlackStone with his deep knowledge of eDiscovery and personable nature," said BlackStone CEO John Kelly. "His extensive experience in eDiscovery, information management, data analytics, and cutting-edge technology is of great value to our team and we're excited for him to play an important role as the company continues to grow."
Jamal's case experience covers a wide range of areas, including class action lawsuits, mergers between pharmaceutical companies, and disputes between several large-scale credit providers. In one class action matter, Jamal culled a review set of nearly 5 million documents down to 1 million documents, saving approximately 50,000 hours of attorney review time. For the merger between pharmaceutical companies, Jamal led a team of fifteen consultants responsible for supporting a team of over fifty attorneys throughout an HSR second request.
In a dispute between several large-scale credit providers, Jamal led a team of over twenty project managers, engineers, and support personnel responsible for the collection and processing of over 10 terabytes of data. The review database for the matter contained over 25 million documents with multiple languages. Jamal oversaw the segregation and management of the data to automate parts of the review process and accelerate review for a team of 500 contract attorneys. Despite various challenges due to the size, scope, and complexity of the project, it was completed on time, and per the required discovery request specifications.
"I'm excited to be back in the Bay Area and working with such a talented group of professionals at BlackStone," Speller said. "I've had a lot of success in my career previously in the Bay Area, and I'm looking forward to continued success in helping BlackStone continue to grow and collaborating with our clients with innovative, defensible solutions to solve their complex legal discovery issues."
With the eDiscovery industry continuing to grow, Speller chose BlackStone for its unique approach to eDiscovery that focuses on empowering clients to become eDiscovery advocates.
About BlackStone Discovery
BlackStone Discovery is the premier legal technology and consulting provider, working with leading Fortune 500 companies and AM Law 100 firms. Since 2003, BlackStone Discovery has customized solutions for the most complex eDiscovery needs and high profile Forensic Investigations leveraging industry-leading technology and employing proprietary applications with a team of highly trained professionals. BlackStone Discovery is devoted to delivering the most cost-effective and defensible solutions available. Blackstone's service offerings span the entire EDRM including Forensic Imaging & Internal Investigations, Relativity Hosting Solutions, Attorney Document Review, Early Data Analysis (EDA), Technology Assisted Review, Enterprise Discovery Protocols (EDP), and Case Management Consultation.