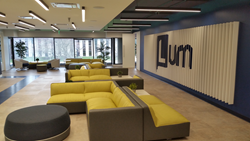 "The Lurn Center is the new 'it' place for self-starters who want access to practical, real-world, how-to knowledge and seasoned insights from the best entrepreneurial minds in the world." -Founder & CEO, Anik Singal
ROCKVILLE, Md. (PRWEB) April 06, 2018
Entrepreneurs, business owners and startup-hopefuls will learn how to turbocharge their growth, wow investors and customers, and get an edge on their competition through free seminars during the Lurn Center's grand opening weekend, April 14–15 from 10:00 a.m. to 5 p.m., at 2098 Gaither Road in Rockville, Maryland. The Lurn Center offers unparalleled access to business resources and entrepreneur networking in its 26,000 sq. ft., state-of-the-art training and community center for entrepreneurs, located near Washington, D.C. RSVP for the grand opening today.
High-Profile, Free Event

Entrepreneurial Stars: Grand opening attendees will get to meet entrepreneurial luminaries including Kevin Harrington, Founder, As Seen On TV; Kevin Strawbridge, CEO, Clickbank; and Anik Singal, Founder and CEO, Lurn, Inc.
Local Leaders: The grand opening kickoff is also attracting elected officials from Montgomery County, City of Rockville and City of Gaithersburg, as well as business leaders from around the region.
Amazing Facility: The weekend event's main draw will be the facility itself. The new center at 2098 Gaither Road in Rockville, Maryland, houses a 140-seat lecture hall, classrooms, advanced audio/visual technology and studios, as well as "insane" whiteboarding and networking rooms. The place even has a spot for members to nap and huddle pods to do it in.
LurnVestor: It's a "Shark Tank"-style event where eight attendees will have a chance to pitch their business ideas, and win up to $50,000 from a group of the country's most successful investors, including the original shark from "Shark Tank," As Seen On TV founder, Kevin Harrington.
"We have nearly a million followers worldwide all wishing they could be here," said Lurn, Inc, founder and CEO Anik Singal. "The Lurn Center is the new 'it' place for self-starters who want access to practical, real-world, how-to knowledge and seasoned insights from the best entrepreneurial minds in the world. All that's left will be their readiness to succeed."
Lurn Inc. is an education company with a mission to help entrepreneurs grow their businesses through digital advertising, social media marketing, email marketing, consulting, and other strategies. Members can get free weekly training sessions, certifications, co-working desks and office space, networking, and so much more.