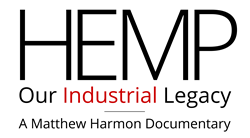 "I was...compelled to join the effort to lobby for legalization at the federal level. We hope our film will be an educational vehicle to inspire others to join the movement," explained Producer/Director Matthew Harmon.
SACRAMENTO, Calif. (PRWEB) April 06, 2018
WarHemp, Inc. announced today the development of a documentary film, HEMP: Our Industrial Legacy. As the U.S. searches for renewable, sustainable resources, the continued push for Congressional descheduling of Industrial Hemp begs closer examination of one of the country's founding commodities. This film aims to define the difference between hemp and marijuana, both products of the Cannabis sativa L plant, and outline the history and significance of industrial hemp as a viable U.S. agricultural crop. Hemp Business Journal and Vote Hemp estimate the total retail value of hemp products sold in the U.S. in 2016 as $688 million; this is based on current market limitations. However, were hemp to be removed from the U.S. Drug Enforcement Agency's Schedule of Controlled Substances, there is trillion-dollar economic growth potential, identified as far back as a Feb. 1938 issue of Popular Mechanics (pg. 245) titled "Billion Dollar Crop."
Hemp: Our Industrial Legacy will be at the NOCO Hemp Expo in Loveland, Colorado April 5-7th to sponsor the NOCO Film Festival and unveil its second trailer for the film. Visit us at booth #76 .
TWEET THIS: Help us support legal #industrialhemp in the U.S. through our new documentary in development! @mcconnellpress #noco2018 #legalizeit #hempdocumentary
HEMP: Our Industrial Legacy explores the origins of hemp in the U.S. as a benchmark crop grown and supported by leaders including George Washington and Thomas Jefferson, who viewed hemp as America's best opportunity to declare economic sovereignty from Britain. Hemp was a household word through 1937, when myriad political influences tainted the image of cannabis and left a lasting negative effect on public perception. A global smear campaign post-WWII led to the plant being classified illegal, lumped in with its very different biological counterpart, marijuana. Hemp is not marijuana; they are different breeds of the same species of plant. Hemp does not contain the psychoactive properties of marijuana. Its chemical makeup and method of growth make it impossible for hemp to contain those properties.
Why was hemp a beloved crop throughout history and then suddenly reclassified and vilified 80 years ago? The film examines several theories and the misinformation regarding the hemp plant since, leading ultimately to the current drive for decriminalization. The United States is the only major industrialized nation that permits trade of hemp seed, oil, and fiber yet prohibits its growth. According to Forbes magazine in a May 29, 2013 article titled "Industrial Hemp: A Win-Win for the Economy and the Environment": "With focused and sustained research and development, hemp could spur dramatic positive ecological and economic benefits."
Five years later the tide is only just starting to turn in Washington with legislation to allow limited cultivation of hemp by universities for research purposes. States like Kentucky are taking the lead in exercising state's rights to grow hemp industrially. The continuing challenge is encouraging commercial development to process the crop. Investors and developers are nervous to make those investments without Federal deregulation. As research reveals more opportunities, entrepreneurs and innovators must struggle to secure funding due to the lack of support from banking and lending institutions, a result of continued stigma, misinformation and lack of knowledge about the hemp plant and its properties, or its possibilities.
"I began investigating the commercial opportunity for hemp nearly a decade ago," explained Producer/Director Matthew Harmon. "As a commercial real estate developer, I saw the economic opportunity for marijuana legalization but wasn't convinced until I educated myself about the benefits of the cannabis plant as a whole. I was intrigued by its mysterious rise and fall as a U.S. agricultural commodity over the past 100 years and was compelled to join the effort to lobby for legalization at the federal level. We hope our film will be an educational vehicle to inspire others to join the movement."
Through expert interviews and visits to leading hemp-industry manufacturers, filmmakers ultimately address those possibilities to resolve whether hemp's resurgence might be imminent—or a long way off.
About Hemp: Our Industrial Legacy
Hemp: Our Industrial Legacy, is a film meant to educate about the Industrial Hemp crop opportunity and the issue of Congressional descheduling of Industrial Hemp in the U.S. The film leverages domestic and international experts to define the value and expansive uses of hemp and the potential economic opportunity by opening commercialization in the U.S., again, after an 80-year hiatus while the plant has been exiled from U.S. soil. More information available at http://www.hempdocumentary.com.
###