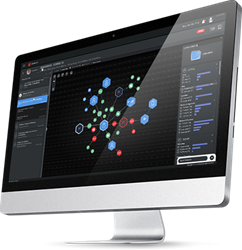 Users can now investigate, triage and remediate security events faster and more efficiently, all from a single console.
NEW YORK (PRWEB) April 10, 2018
Siemplify, the leading innovator in security orchestration and automation, announced today that it has achieved technical integration of the Siemplify Security Orchestration and Automation Platform with McAfee Enterprise Security Manager (ESM) as well as other products in the McAfee portfolio. This integration enables customers to deploy more robust security solutions, seamlessly manage their various security tools and automate incident response processes to better protect against emerging cyber threats.
As a member of the McAfee Security Innovation Alliance, Siemplify plays a critical role in the program's mission to accelerate the development of interoperable security products and to simplify the integration of these products within complex customer environments, bringing better value and more protection against the growing threat landscape to joint customers. Through this partnership, Siemplify and McAfee address a rising industry need to shorten response times from security events and more easily remediate compromised systems.
"Siemplify's platform enables security teams to work smarter and respond to threats faster by delivering context-rich security orchestration and automation capabilities through a holistic analyst workbench," said Meny Har, vice president of products, Siemplify. "With the integration of McAfee ESM, Threat Intelligence Exchange and ePolicy Orchestrator, to name a few, users can now investigate, triage and remediate security events faster and more efficiently, all from a single console."
"Security should be easy to manage, and together with Siemplify we are able to deliver solutions that enable joint customers to more effectively manage their portfolio of McAfee products," said D.J. Long, vice president strategic business development, McAfee. "This results in better protection, reduced remediation time, and increased efficiency."
About Siemplify
Siemplify provides a holistic security operations platform that empowers security analysts to work smarter and respond faster. Siemplify uniquely combines security orchestration and automation with patented contextual investigation and case management to deliver intuitive, consistent and measurable security operations processes. Leading enterprises and MSSPs leverage Siemplify as their SOC workbench, tripling analyst productivity by automating repetitive tasks and bringing together disparate security technologies. Founded by Israeli Defense Forces security operations experts, Siemplify is headquartered in New York with offices in Tel Aviv. http://www.siemplify.co
McAfee and the McAfee logo are trademarks of McAfee LLC in the United States and other countries.