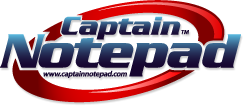 This is a great time to buy the upcoming season's sports schedule magnets to use for promotional giveaways
ENGLEWOOD, Colo. (PRWEB) April 06, 2018
Captain Notepad (http://www.captainnotepad.com), a producer of image personalized calendars, custom notepads, professional notepads, and other promotional items, today announced the release of the 2018 PGA, MLB, and NASCAR sports schedules to use with customized notepads for promotional use.
Magnetic calendar with sports schedules offers clients the opportunity to advertise their business in a unique and creative way. "This is a great time to buy the upcoming season's sports schedule magnets to use for promotional giveaways. It's a great way to leave a lasting impression with new or existing clients. It goes beyond the standard customized notepad but still allows for complete customization with your business name and contact information. Your clients are going to love getting a sports schedule magnet of their favorite team that they will hang on the fridge for the entire season," notes Jace Rogat, President at Captain Notepad.
All professional notepads and magnets come customized with business name, contact information, and logo. Choose your local team or order a variety of different team sports schedules to give clients a personalized gift. "With combining a business logo and contact information with something as popular as a sports schedule, just makes sense," states Jace Rogat, President at Captain Notepad.
Captain Notepad offers a variety of customizable sports schedules. Options include:
1. Sticking a business card on to the schedule. As seen on the Magnetic MLB Schedule.
2. Embed business information for a customized look. As seen on the NASCAR Magnets.
Click here to see a full list of Magnetic PGA Schedules.
Click here to see a full list of MLB Schedules.
Click here to see a full list of NASCAR Schedules.
Captain Notepad is also excited to highlight one of its top selling products, Earth Friendly Notepads. These earth friendly products are made from recycled material and can be customized to fit your business needs. "You get the same great high quality professional notepad using recycled material. It's a great way to show your clients you care about the environment and want to reduce your footprint," notes Jace Rogat, President at Captain Notepad.
About Captain Notepad (https://www.captainnotepad.com)
Captain Notepad is the leading manufacturer of customized notepads and promotional items specializing in creative solutions to help brand a company's product and grow their business. Through competitive prices and great customer service, Captain Notepad has become the best source for custom notepads. What sets Captain Notepad apart is the short production time including rush production on most of the custom printed notepads.