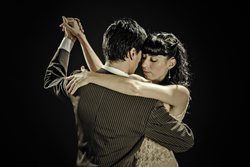 DanceTangoTV allows dancers to immerse themselves in their Tango practice; wherever and whenever it is convenient for them to do so.
NEW YORK (PRWEB) April 10, 2018
DanceTangoTV is the first website of its kind to offer an inexpensive subscription-based model with a focus on the social dance of Tango—widely considered the most beautiful partner dance in the world. The site allows dancers to immerse themselves in their Tango practice; wherever and whenever it is convenient for them to do so.
For $19 a month DanceTangoTV subscribers are able to stream unlimited classes in HD on their computer, tablet, or smartphone. The website features a wide range of full-length instructional videos for dancers of all skill levels, with lessons for the absolute beginner, to classes for professional level dancers. Highly sought-after master Argentine Tango teachers based in Buenos Aires, the birthplace and mecca of Tango, instruct all of the lessons in the ever-growing library of videos on the site.
"DanceTangoTV was conceived for all levels of dancers, but specifically for those who don't have access to quality tango teachers; or if making the trek to Buenos Aires to study with the masters just isn't a realistic option," said Angel Prince, CEO of DanceTangoTV. "We bring high-quality Tango lessons into the comfort of everyone's home—or wherever they choose to practice—at an affordable price."
"The website is also a great tool for those people who want to learn the dance of Tango but aren't ready to step outside their house and into a group lesson," says Prince. "Whether a user a total beginner, too busy, or simply too shy to make it to a class, DanceTangoTV removes those barriers and brings the classes them."
Designed with the user experience in mind, DanceTangoTV provides subscribers with simple and intuitive navigation, so they can quickly find classes that appeal to them and start dancing. The classes on the website are organized in three primary ways: by teacher, by level, and by topic. For seasoned DanceTangoTV subscribers, there is even a feature called "Make Your Own Class" that allows users to assemble a tailor-made lesson based on their preferences.
Visit http://www.dancetangotv.com to experience this unique and forward-thinking method for learning the beautiful, elegant, and sensual dance of Argentine Tango. New users receive a seven-day free trial to test out the site.
To celebrate the launch of the website, DanceTangoTV is hosting a launch and milonga (an Argentine Tango dance party) on Saturday, April 21 in Hawai'i. The event will be held at the Honoka'a People's Theatre on Saturday, April 21, 2018 on Hawai'i Island.
Facebook: https://www.facebook.com/dancetangotv/
Instagram: https://www.instagram.com/dancetangotv/
Twitter: https://twitter.com/DanceTangoTV
About DanceTangoTV
DanceTangoTV (http://www.dancetangotv.com) is an online Tango community featuring high-quality educational videos of Argentine Tango instruction. The website offers classes for every level of dancer. Based in New York, Hawai'i, and Argentina—Dance Tango, LLC is a privately held company.