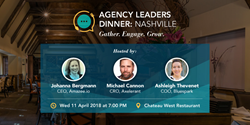 NASHVILLE, Tenn. (PRWEB) April 08, 2018
Axelerant CRO Michael Cannon along with Johanna Bergmann, CEO of amazee.io, and Ashleigh Thevenet, COO of Bluespark, will host an Agency Leaders Dinner on 04/11 in Nashville, Tennessee during DrupalCon 2018—over 30 agency CXO's will be in attendance. Discussions will include the state of Drupal business, opportunities for partnership, and other agency success-driven topics. Tickets to the RSVP only event are sold out. Subsequent events are being planned for 2018.
For many agencies in Drupal, growth and talent sourcing has been a challenge. While Drupal agencies have done relatively well this past year, there are growing red ocean sentiments that are changing the way decision makers see the landscape. This is driving collaboration in Drupal at the business level, bringing agency peers together.
Agency Leaders Dinner events have been co-hosted in London, Auckland, Boston, Portland, and other locations around the world. The community is comprised mostly of C-Level peers who come together to build better partnerships and share successes and learnings. Conversations at Agency Leader events follow the Chatham House Rule.
For more information, contact Nathan Roach at nathan(at)axelerant.com.