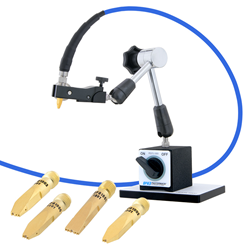 "There is no longer a need for makeshift probes; this design provides our customers with a proven solution and puts more control and repeatability into the hands of the tester," said Dan Birch, Product Manager
IRVINE, Calif. (PRWEB) April 12, 2018
Pasternack, a leading provider of RF, microwave and millimeter wave products, has just launched a new, innovative line of coaxial RF probes and a probe positioning hardware. These new products are well-suited for signal integrity verification, chip evaluations, coplanar waveguide, circuit debugging and test fixture applications.
Pasternack's new product line consists of four coaxial RF probes and one RF PCB probe positioner with unique designs. The RF coaxial probes deliver frequency performance up to 20 GHz and return loss better than 10 dB. They feature gold-plated contacts and compliant coaxial GSG (or GS) pogo pins. These probes have a pitch of 800 and 1500 micron, a 3.5mm female interface and can be cable mounted. They can be used by hand, with or without a probe positioner and the pogo pin design allows for a wide range of probing angles.
The RF PCB probe positioner holds coaxial probes and features a magnetic mounting plate with on-off positioner switch. This positioner also has articulated joints and delivers multi-axis positioner control. These products are ideal for use in microwave components, high-speed communications and networking development.
"We are excited to bring this product family to market and provide a new, unique solution to an ongoing challenge. There is no longer a need for makeshift probes; this design provides our customers with a proven solution and puts more control and repeatability into the hands of the tester," said Dan Birch, Product Manager.
Pasternack's new coaxial RF probes and positioner are in stock and ready for immediate shipment with no minimum order quantity. For detailed information on these products, please visit https://www.pasternack.com/pages/rf-microwave-and-millimeter-wave-products/coaxial-rf-probes-and-positioner.html.
For inquiries, Pasternack can be contacted at +1-949-261-1920.
###
About Pasternack:
A leader in RF products since 1972, Pasternack is an ISO 9001:2008 certified manufacturer and supplier offering the industry's largest selection of active and passive RF, microwave and millimeter wave products available for same-day shipping. Pasternack is an Infinite Electronics company.
Press Contact:
Peter McNeil
Pasternack
17792 Fitch
Irvine, CA 92614
(978) 682-6936 x1174