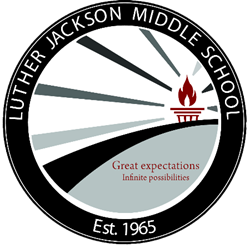 The national competition supports educators' efforts to build a positive culture of readers in a school environment. More than 380 7th and 8th graders read over 150,000 pages for a total of 12,591 minutes. Students competed against 22,000 peers from 1,210 U.S. schools to place 2nd in the nation.
FALLS CHURCH, Va. (PRWEB) April 06, 2018
Luther Jackson Middle School, in the Fairfax County, VA Public School System, has won 2nd place in the Great Reading Games, a national reading competition designed to support teachers to motivate K-12 struggling and non-readers to read 20 minutes or more a day.
The Great Reading Games is the signature reading engagement competition offered by Learning Ally, an education technology nonprofit, based in Princeton, NJ.
The national competition aims to support a school's efforts to build a positive culture of readers in a school environment. A digital leaderboard tracks and highlights the number of pages students read, and how many students read in a school. Winning schools, teachers, and students receive Chromebooks, gift cards, headphones and prize packs.
Luther Jackson Middle School has a schoolwide emphasis on developing disciplinary literacy with a staff dedicated to improving students' reading skills. This year, more than 380 7th and 8th graders read over 150,000 pages for a total of 12,591 minutes in the seven-week competition. Students competed against 22,000 of their peers from 1,210 U.S. schools and districts to place 2nd in the nation.
Chad R. Lehman, Principal at Luther Jackson Middle School, said, "Our students and staff are extremely excited, proud, and honored to be recognized by Learning Ally as a top performer in the 2018 Great Reading Games. This is the first year our students and staff have utilized Learning Ally as a tool to support students who are working to improve their literacy skills and develop a love of reading. Learning Ally has significantly increased the amount of time students spend reading and has led to a higher level of engagement with our curriculum. Our teachers and students brought their "A" game to the reading competition and won!"
Top Student Winners
Two students at Luther Jackson Middle School will receive top honors. Qais Sakaji won 3rd place and Alexander Melgar won 6th place overall for reading the most books. Ten more students were also among the top 25 readers in Fairfax County.
Barbara A. Barnhart, a Special Education English Teacher said, "Learning Ally really resounded with Qais. He was a reluctant reader and passively read in class, flipping through pages, but not really engaging with the text. He truly embraced the idea of reading for pleasure. He would add books regularly to his bookshelf and tell me how many pages he read per night. He was motivated to earn more points on the school's leaderboard. His reading stamina improved as did his vocabulary and he hasn't stopped reading."
Maggee Albertson, a Learning Disabilities Teacher and Sponsor of Model United Nations says, "Alex really embraced reading audiobooks from Learning Ally. After we read a novel in class, which was the first in a series, he read the rest of the series from Learning Ally. He came to class each day and wanted to share what was happening in the lives of the characters. He talks with me about what other books he might like. He would let me know if he liked the story. It was great to see him exploring new genres of fiction and discussing them with me."
Luther Jackson Middle School serves more than 1450 students from diverse backgrounds and cultures. A majority are second language learners with more than 45 different languages spoken at home. Additionally, many special education students are dually identified as ESOL students. Students using Learning Ally can easily download audiobooks directly to their tablets, computers, smartphones, Chromebooks and other devices to read in school or on the go, even without Internet access.
School Celebration – April 10, 2018
On Tuesday, April 10th at 9:00 am, Principal Lehman, along with faculty, parents, and Kim Norkin Banks, Learning Ally's Education Manager, will honor the school's victory and the students who made reading a priority with their rewards and prizes.
Rachel Haymond, a Fairfax County Assistive Technology Resource Teacher said, "It was awesome to see the playful 'rivalry' among students and how effective this competition is to ignite students who struggle to read. I loved seeing the students read daily with such vigor."
Hundreds more students in the Fairfax County Public School District in Virginia use Learning Ally all year long and have collectively read over 1,000,000 pages.
If your school would like to participate in the Great Reading Games, call 800.221.1098, email programs@LearningAlly.org or visit http://www.LearningAlly.org/Educators.
About Learning Ally
Learning Ally is a leading nonprofit ed-tech organization delivering a comprehensive learning solution for struggling readers in elementary, middle and high schools. Our proven solution includes an extensive library of human-read audiobooks that students want and need to read at home and at school, along with a suite of teacher-focused resources that ensure student success. This reading experience helps accelerate learning, enables a new level of access to knowledge and powerfully increases student confidence and self-belief.
Learning Ally partners with 13,000 U.S. schools, districts and state education systems to empower over 300,000 students with improved comprehension, vocabulary, fluency and critical thinking skills. For 70 years, the organization has helped to transform the lives of struggling readers by bridging the gap between their reading capability and their academic potential to become confident, lifelong learners who thrive in school and beyond.