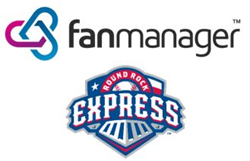 Fan Manager integrates with the widest variety of data sources and offers the deepest and most well-rounded fan view available.
BOSTON and ROUND ROCK, Texas (PRWEB) April 10, 2018
Fan Manager™, innovating intelligent fan activation solutions for sports and entertainment properties, and Round Rock Express Baseball Club today announced that the Express selected Fan Manager as its platform of choice for fan data insights and activation. Entering its 19th year, Round Rock is the first minor league team to adopt an AI-powered data analysis platform for audience search, analysis, segmentation, attribution, and management.
"Austin and the surrounding communities are growing, and we want to understand how we can best meet our fans' needs while delivering an awesome experience every time they come to Dell Diamond," said Laura Fragoso, senior vice president of marketing at Round Rock. "Most fan-based data analytics solutions we looked at were either too complex to adopt organization-wide or were weighted toward a single fan dimension such as social media," continued Fragoso. "Fan Manager integrates with the widest variety of data sources and offered the deepest and most well-rounded fan view available. Plus, it's very easy to use. Fan Manager's ease of use really clicked with everyone in our organization. Complex data are presented in a straight-forward manner. In just three clicks, we'll be able to conduct audience segmentation to fuel marketing campaigns that will truly resonate with fans."
The Fan Manager platform unifies data from ticketing, CRM, commerce, social media, email, and other disparate data sources. Its proprietary machine-learning algorithms automatically ingest and index millions of fan transactions per day. This capability will enable Round Rock to target and analyze relevant fan behaviors and seamlessly build audience segments, which are pushed directly to their marketing channels -- reducing fan activation time-to-market by 80%.
"We are thrilled to be working with Round Rock Express, which shares the same passion we have for improving the fan experience through innovative technology," noted David Melnick, CEO of Fan Manager. "Moreover, Round Rock's adoption of the Fan Manager platform demonstrates the value that we can bring to both major and minor league teams and we look forward to bringing more minor league teams onto the Fan Manager platform."
About Fan Manager
Fan Manager enables sports and entertainment brands to intelligently unify, activate, and monetize their fan data. Its cloud-based, AI-powered software platform aggregates fan data from more than 60 sources to create a 360- degree view of each fan's purchase and engagement behavior. These real-time capabilities empower customers to analyze, segment, and activate fans for increased revenue. Owner-backed and headquartered in Boston, Fan Manager customers include some of the most forward-thinking sports properties in the world such as A.S. Roma, Atlanta Hawks, Boston Celtics, Buffalo Bills, Round Rock Express, and the Washington Nationals. Visit http://www.fanmanager.com. Follow us on LinkedIn and Twitter.
About Round Rock Express
Round Rock Express Baseball Club is entering its 19th season and its eighth as Triple-A affiliate of the Texas Rangers. The franchise was founded by Ryan Sanders Baseball – an ownership group spearheaded by Reid Ryan, son of Baseball Hall of Famer Nolan Ryan and is now led by CEO Reese Ryan. The Express began as the Double-A affiliate of the Houston Astros in 2000 and moved to the Triple-A Pacific Coast League in 2005, remaining an Astros affiliate through the 2010 season. Round Rock has established numerous attendance records at Dell Diamond and has remained in the top five in total attendance in all of Minor League Baseball 16 of the past 17 seasons, winning the PCL attendance crown in 2016. The Express won the 2011 PCL American Southern Division title and the 2015 American Conference championship. For more information on the Express, visit RoundRockExpress.com or call (512) 255-2255. Keep up with the Express on Facebook, Instagram, Snapchat and Twitter.
All product and service names mentioned herein are the trademarks of their respective owners.