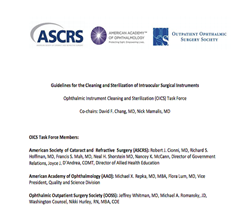 ...the OICS-authored guidelines provide our ASCs with evidence to support practical and safe cleaning procedures.
WASHINGTON, D.C. (PRWEB) April 09, 2018
New specialty-specific guidelines for the sterile processing of ophthalmic surgical instruments were released today by three leading ophthalmic organizations. The new Guidelines for the Cleaning and Sterilization of Intraocular Surgical Instruments rely on peer-reviewed evidence to help optimize the safety of surgical instruments, with a focus on patient safety for many common eye procedures, including cataract and anterior segment surgery. The guidelines are the product of a three-year collaboration by the American Society of Cataract and Refractive Surgery, the American Academy of Ophthalmology and the Outpatient Ophthalmic Surgery Society.
The incidence of infection related to cataract and other eye surgeries is extremely low. Still, the group's work helps surgical facilities better understand, adopt, and defend certain well-established sterile processing practices.
Because of evolving accreditation policies implemented by regulatory agencies for ambulatory surgical centers (ASC) and other outpatient facilities, the task force addressed instrument-processing issues for which certain broad general surgery guidelines may not necessarily be appropriate for ophthalmic surgery.
"The small size of our instruments and the unique susceptibility of the eye to toxic anterior segment syndrome, or 'TASS,' differentiates optimum cleaning and sterilization procedures for cataract surgery from other types of general surgery," said David F. Chang, M.D., co-chair of the task force and ASCRS executive committee member. "A number of recommendations in these guidelines are based on new or recently published studies that were initiated by task force members."
The collaboration sought broad representation across the specialty, including the perspectives of ophthalmologists and ophthalmic ASCs, whose clinical staff includes surgeons, nurses, and technicians. A special Ophthalmic Instrument Cleaning & Sterilization (OICS) task force was formed to meet this objective in developing ophthalmology-specific recommendations.
"These are evidence-based guidelines," said Michael X. Repka, M.D., the Academy's medical director for governmental affairs and task force member. "Their development required a strong collaboration among our three organizations, with a singular goal of ensuring that all of ophthalmology's patients have access to the safest, highest-quality eye surgery."
The guidelines address the potential of enzyme residues on instruments to cause TASS.
"During a recent study the Moran Eye Center in Salt Lake City, we found that that it is difficult to eliminate microscopic enzyme residues, even with prompt, thorough rinsing," said Nick Mamalis, M.D., co-chair of the task force. "Surgical facilities can now use these guidelines to appeal to specific instrument manufacturers about the need to validate cleaning methods that don't routinely require enzymatic detergent."
To aid the development of these guidelines, the three societies funded a newly published study to specifically evaluate common, short-cycle sterilization practices for sequential, same-day cataract surgeries. Some of these practices have previously been questioned by accrediting agencies. The study tested two of the most commonly used Food and Drug Administration-approved sterilizers, as identified by a survey of OOSS-member ophthalmic ASCs.
"Along with this study, the OICS-authored guidelines provide our ASCs with evidence to support practical and safe cleaning procedures." said Jeffrey Whitman, M.D., outgoing president of OOSS and a co-author of the study.
ORGANIZATIONAL CONTACTS
Nancey McCann
American Society of Cataract and Refractive Surgery
Susanne Medeiros
American Academy of Ophthalmology
Michael Romansky, JD
Outpatient Ophthalmic Surgery Society